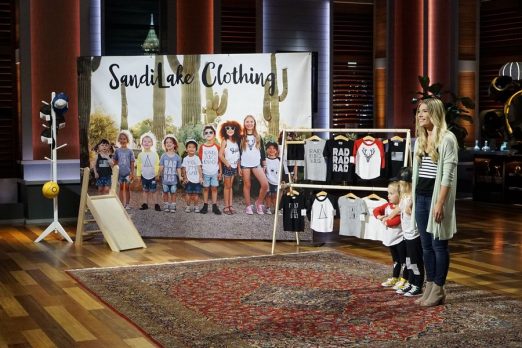 Melissa Lay seeks an investment for Sandilake Clothing, her line of hand screen printed clothing, in Shark Tank episode 806. Lay, a stay at home mom, started screen printing shirts and tops in her garage in 2014. She sold on Etsy originally and, more recently, on her own website. To date, she sold over 20,000 tops, all created by hand.
Her biggest claim to fame came by accident. In early 2015, one of Melissa's friends saw an identical tee-shirt design from the Sandilake Clothing line at Target. It was a shirt that said "#Merica" over a US flag. Melissa contacted Target and got an address where she could "mail a letter." Target told her they bought the shirt from a vendor, so her beef wasn't with them. After the story spread like wildfire on social and traditional media, Target pulled the product.
Whether the Target incident drove sales or not, it created a lot of interest in that design. Melissa has dozens of designs on the Sandilake Clothing website. She sells hats for $15 and most tops are $25. Each piece is hand-made and must pass muster before it gets shipped.
She likely wants a Shark to help up her production capabilities. Will a Shark bite on this somewhat controversial business?
Sandilake Clothing Shark Tank Recap
Melissa will pitch the panel of five Sharks on the business and its prospects for growth. She'll need to convince Mark Cuban, Barbara Corcoran, Kevin O'Leary, Lori Grenier, and Robert Herjavec that the company is worthy of a Shark investment. A good business plan, good financials, and sales data will impress the Sharks, but she'll need to show them SHE is capable of running the company to "Shark standards." A full pitch re-cap on Sandilake Clothing will be available on Shark Tank Blog once this episode airs.
Sandilake Clothing Shark Tank Update
The Shark Tank Blog constantly provides updates and follow-ups about entrepreneurs who have appeared on the Shark Tank TV show. Once an episode has aired, we monitor the progress of the businesses featured, whether they receive funding or not and report on their progress. The Shark Tank Blog will follow-up on Sandilake Clothing and Melissa Lay as more details become available.
Posts About Sandilake Clothing on Shark Tank Blog
Sandilake Clothing Company Information
Video