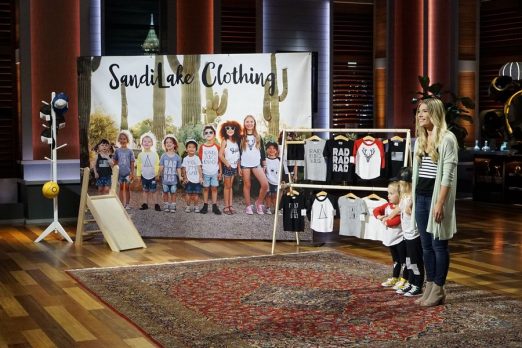 Melissa Lay seeks an investment for Sandilake Clothing, her line of hand screen printed clothing, in Shark Tank episode 806. Lay, a stay at home mom, started screen printing shirts and tops in her garage in 2014. She sold on Etsy originally and, more recently, on her own website. To date, she sold over 20,000 tops, all created by hand.
Her biggest claim to fame came by accident. In early 2015, one of Melissa's friends saw an identical tee-shirt design from the Sandilake Clothing line at Target. It was a shirt that said "#Merica" over a US flag. Melissa contacted Target and got an address where she could "mail a letter." Target told her they bought the shirt from a vendor, so her beef wasn't with them. After the story spread like wildfire on social and traditional media, Target pulled the product.
Whether the Target incident drove sales or not, it created a lot of interest in that design. Melissa has dozens of designs on the Sandilake Clothing website. She sells hats for $15 and most tops are $25. Each piece is hand-made and must pass muster before it gets shipped.
She likely wants a Shark to help up her production capabilities. Will a Shark bite on this somewhat controversial business?
Sandilake Clothing Shark Tank Recap
Melissa enters with her daughters seeking $100,000 for 10% of her business. Melissa wants a Shark's help getting into retail stores. She tells her story and the daughters, Scout and Penny, hand  out samples. Then she sends the girls backstage when they begin discussing business.
The Sharks like her designs. They also like the $340,000 in sales over two years. Current year sales are only $67,000. This is due to the viral sales she got from the Target story. She has good margins: she makes a top for $5.50 and sells it for $20. The Sharks don't like the non-viral sales numbers though.
Mister Wonderful is the first Shark out calling her current sales "nothing." Mark is out next, stating it will be tough to grow her business. Robert follows citing the post viral lackluster sales. Barbara makes an offer: $100,000 for 40% and she will sell 20% to Grace and Lace, a woman's clothing company she invested in during season five. Lori starts to say something and Barbara says she wants an answer right now. When Melissa says she wants to hear from Lori, Barbara goes out. Lori does not make an offer and Melissa leaves with no deal.
Sandilake Clothing Shark Tank Update
The Shark Tank Blog constantly provides updates and follow-ups about entrepreneurs who have appeared on the Shark Tank TV show. After the show, Melissa opened her own retail store in Portland. She decided to spend more time and sold the business in 2019 to an undisclosed woman in Florida. In August, 2019 she bought the business back and rebranded it Allmade Apparel. She bought an "adventure van" to travel around with her family and enlisted Peter Cuderman to run the business on a day to day basis. As of May, 2021, the company is still in business with annual revenue of $1 million.
Posts About Sandilake Clothing on Shark Tank Blog
Sandilake Clothing Company Information
Video