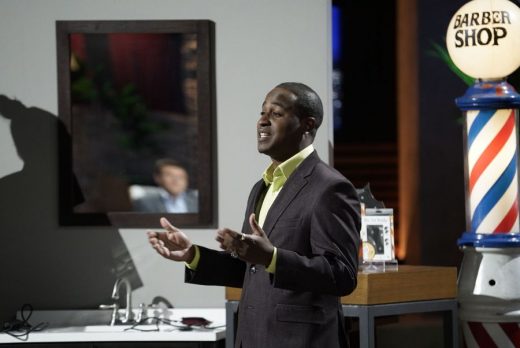 Cut Buddy inventor Joshua Esnard made the first version of his hot selling home hair cut tool when he was 13 years old. It seems his dad was doing such a bad job on his hair cuts, Joshua wanted to take matters into his own hands. At first, he didn't do so well cutting his own hair. The lines were uneven and he wanted a crisper look. So he took a plastic folder from his parents and cut it to contour to the shape of his hair line.
Fifteen years later, he decided to turn his own home hair cut tool into what we know today as Cut Buddy. Basically, it's a template that you place on your head while cutting or shaving your head. Simply run your razor or electric hair trimmer along the template edge and you get a smooth, clean look every time. Joshua figures he saved thousands of dollars over the years with his home-made Cut Buddy. Now he hopes to do the same with the patented, mass-produced version.
At first, he had moderate success. He ordered a few hundred units, but sales were slow. Videos of himself cutting hair were drawing more ridicule than sales – largely due to the fact that Joshua didn't have much hair any more. Then he tried something bold. He contacted famous Youtubers to review the product and offered them a commission on all sales through their videos. Sales picked up from a couple orders a day to a few hundred. When a men's hair care site called 360 Wave Process did a video review, the video went viral, collecting over 8 million views. Joshua sold 4000 units in just a few hours!
During the scramble to fulfill orders, get his Chinese manufacturer to fulfill orders and ship everything, his life got pretty hectic. Through it all, he sold 55,000 units, netting around $700K. He is getting knocked off and he needs a Shark to bring some sanity back into his life and his business. Will a Shark want a cut of Cut Buddy?
My Take on Cut Buddy
As a follically challenged male, I have my wife shave my head once a month. I am well beyond the need for Cut Buddy. I think it's a handy tool and would have used it 20 years ago, but alas, those days are over.
What I like is the way Esnard grew his business. He gave his product to influencers and cut them in on the deal by making them affiliates. Whenever an influencer sold a product, they got a commission. This gave Esnard "free" salespeople. Of course he paid them, but he still had great margins. It's a great way to bootstrap a business and I love his story. I am IN.
Will the Sharks Take a Cut?
The old "it's a product, not a business" objection will come up. Despite the success of the business, it's still a one trick pony. Sharks want multiple streams of income. It does have mass appeal and it's easily demonstrated – as the video success shows; that could interest Lori.
If she thinks she can sell this product through her many channels, she'll make an offer. Lori often wants a lot of equity and Esnard owns 79% of the business, so he'll need an offer from Lori that lets him keep at least 51% of the business. If Lori accepts a 25% equity position (or less), Esnard may have a new partner.