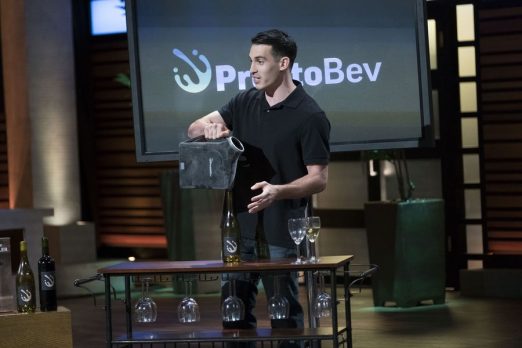 Alexander Simone hopes he has more success pitching Pronto Bev to the Sharks than he did when he first "invented" it. When he was a frat boy back in 2013, he wanted to sip some wine with a young lady in his frat house. Unfortunately, all he had was warm white wine. He wanted to impress her, so he concocted a contraption with ice, salt and a jug to chill the wine quickly. It DID chill the wine, but it was salty, watered down and nearly undrinkable. I'm presuming he didn't get the girl either.
Fast forward a few years and he thought about building a "real" prototype of his chilling contraption for an  Entrepreneurial Marketing class he was taking. The prototype worked, but it looked like something out of a moonshiner's nightmare. After 13 tries, he had a real working prototype, that's when the real work began.
Alexander quit his job and took off for San Francisco with little money and a lot of fear. He decided IndieGoGo was the way to get his product built quickly. Luckily, he hit the jackpot and raised enough money to cover his goal – $61,317 to be exact. While he was running his IndieGoGo campaign, he was also filming Shark Tank. While he has the cash for production, he hasn't delivered yet and is still figuring out where to manufacture. He likely needs a Shark to help him source production and to boost his finances.
My Take on Pronto Bev
I'm not a wine guy. I like beer and martinis. I usually keep a bottle of vodka in the freezer to keep it ice cold, but every once in a while, I need to chill a warm bottle. This is where I'd use it. Icing vodka in a mixer waters it down too much, if I could get the chill without that, I'd use it.
My parents are wine people and they sometimes forget to chill their white wine. In fact, this happened just a few nights ago and I mentioned Pronto Bev to them. They seemed intrigued and it is the type of gadget they'd enjoy. They have all kinds of wine related gadgets and items and they'd love a Pronto Bev. For that reason alone, I am in.
Will the Sharks want a Sip?
I can already hear Kevin O'Leary talking about the Confrérie des Chevaliers du Tastevin. He brings it up anytime there's a wine product in the Tank. Kevin doesn't always invest in wine products, but he ALWAYS brings up his "secret wine society."
Mr. Wonderful is the best SHark for this product. It fits into his "something wonderful" platform as it makes a great gift for newlyweds – particularly those who like wine. It's also unique. There isn't another product like it on the market. With its accompanying aerator and its proprietary "ProntoGel" for cooling, he may get a bid from O'Leary.