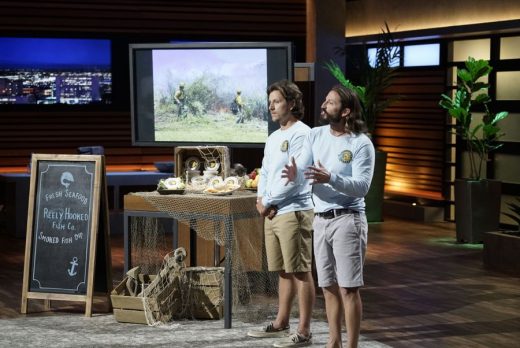 Reely Hooked Fish Dip is the creation of Steven Markley and James Arcaro, two Florida fishermen and wild lands firefighters. They, like many Floridians, like their smoked fish dip. They like it so much, they want to make and sell their own brand. Smoked fish dip is a Florida favorite made from king mackerel; they also use amberjack.
Basically, the guys decided to take an old family recipe and market it. They use fish they catch from their own boat and from other fishermen in the Fort Lauderdale area. Many fish dips use mayonnaise or sour cream (or both), but they claim to have a "secret sauce" and a "secret fruit" as part of their dip. Everyone who tries it loves it, so they decided to make a go of producing the stuff as a business.
The business is still in its infancy. They only ship on Tuesdays and the product isn't widely available yet – not even in Florida. It's not cheap, either. 12 bucks for an 8 ounce tub is fairly expensive, even if it is – as they say on their website – "the crack of appetizers." They likely want a Shark's help to grow into major supermarket outlets.
My Take on Reely Hooked Fish Dip
As I write this post, I'm checking my smoker. I'm smoking some Spanish mackerel I plan to make dip with. Hopefully, in a week or so, I'll have a king mack or two to smoke. They're running at the pier and I will get one!
The problem with this product, at least in Florida, is that everyone who fishes for kings has their own favorite kind of fish dip. I'm sure Reely Hooked Fish Dip is good, but if you make and enjoy your own, why buy it? I know a lot of people don't fish for kings, but almost everyone I know does (or knows someone who does) there's fish dip everywhere – especially during king mackerel season. While I wish these guys the very best, I'll stick to my own recipe.
Will the Sharks get Hooked?
I see a lot of obstacles in the Tank for Reely Hooked. I'm sure they'll all love the product – I never ate a fish dip I didn't like – but there are several major objections to overcome. The first is the "it's too early" objection. This business doesn't have much sales, and the Sharks haven't been investing in businesses that need a lot of growth to become profitable.
The second objection is the product itself. Food products, particularly those that need cold storage, are a tough sell in the Tank. In order to go big, they'd need a contract packer to make the stuff in volume. That might take away some of the yummy goodness and authenticity from the product. Plus, with this product, you need to smoke the fish, then blend it into a dip. It's an expensive proposition. That plus the fact cold storage in itself is expensive and grocery store shelf space is at a premium, make this a tricky business.
The third objection is the dip itself. Every fish restaurant in Florida worth its salt has its own fish dip, many sell it too. It's going to be tough to get folks to go out and buy this at the local Publix – if they can find it at all. I'm afraid the only way Reely Hooked leaves with a shark is if they gaff one.