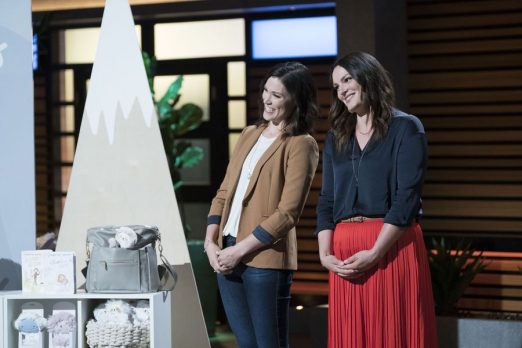 Kelly Oriard and Callie Christensen created Slumber Kins to help kids. The two "momtrepreneurs" merged therapeutic techniques with their line of cuddly toys to help young children deal with different anxieties and childhood fears. They know what they're talking about, too. Kelly has a Master's degree in Marriage and Family Therapy and School Counseling and worked as a counselor in a K-8 school. Callie has a Master's in Teaching – specializing in Elementary Education and Special Education and she worked as both a school counselor and elementary teacher. Between them they have six kids (Kelly has two, Callie four).
The two women are longtime friends who started their business in 2015 after sewing blankets for their own kids. They wanted to create a toy/brand that helps kids "navigate challenges." Each SlumberKins toy – along with its accompanying "Sleepy Time Rhyme," seeks to teach kids a life skill. For instance, Slumber Sloth teaches relaxation, Bigfoot teaches self-esteem, and so on.
The toys are almost blanket-like and meant to be tactile with their soft "fur." They're $38 each and you can bundle them with a hard copy of the Sleepy Time Rhymes. The rhymes are also in a downloadable, PDF format on their website. The Slumber Sloth Rhyme encourages kids to relax through deep breathing and small relaxation exercises like squeezing your hands and feet.
They probably want a Shark to help them get the word out about their product and drive more sales. Will a Shark want to get in bed with this business?
My Take on Slumber Kins
My kids are all well beyond the age for this toy, so I'm probably not a buyer – at least until some grandchildren come along. That said, there are a lot of parents and grandparents that would buy these for the kids in their lives. The product is very mindful and has a bold, kind vision, but it might aim a bit too high for a lot of folks. It seems aimed at folks with Masters degrees.
That's not a bad thing at all, but it could put some people off. What they're trying to do with Slumber Kins is make a brand out of the favorite blanket or stuffed toy every child seems to have and become attached to. When my son was 18 months to two and a half, he wouldn't go anywhere without "pup-pup." It was kind of like a security blanket for him. He chose pup-pup, I didn't. There were plenty of other stuffed toys and such he could have latched onto, but pup-pup was it.
My point is, I'm not sure a branding effort, despite the thought that obviously went into this product, can effect what a kid latches onto for security. The Sleepy Time Rhymes are cute, thoughtful, and attempt to teach their corresponding life skill, but the little stories would work just as well with a favorite blanket or even pup-pup. Don't get me wrong, these will be a baby shower staple if the women succeed. People always want to give something unique and SlumberKins fits that bill.
Will Sharks Cuddle Up with this Business?
At first, I didn't think these women would get a deal, but something changed my mind. Today (air date) on their Facebook page, they announced lower prices. Each toy used to be $44, now they're $38 – which probably still leaves them with pretty good margins. Now, for $44 you get a toy AND a Sleepy Time Rhyme card. As I said above, the rhyme is kind of the secret sauce, otherwise it's just another plush toy.
This smacks of a suggestion by a Shark. Even though Sharks want more profit, the price drop is psychologically far less expensive. 44 bucks seems like a lot more than 38 and it may have put people off. But, I'll bet many will hit that $44 price point with the rhyme included. I'm not sure if it's a Shark's doing, but it seems like it is. The question is, which Shark? I'm betting on Mr. Wonderful and his something wonderful platform. He's also a fan of women run businesses. Maybe, just maybe, their Hammerhead Slumberkin won him over!