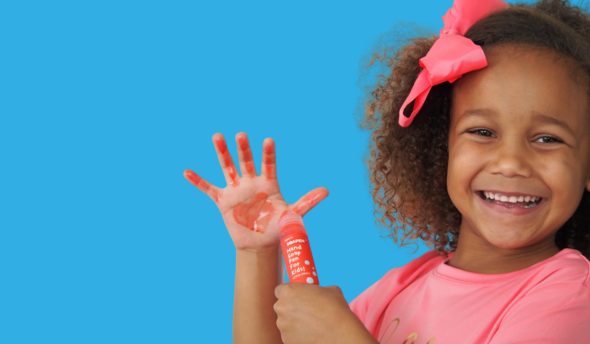 Amanat Anand and Shubham Issar started designing the SoaPen to save lives. They were shocked to learn that 1.5 million children needlessly die of infectious diseases every year. These deaths can be prevented by simply washing their hands. They met as students while studying industrial design at the Parsons School of Design in New York City. When they graduated, they wanted to collaborate on a product that would help solve this preventable problem. Their claim is they wanted to enter "the social intervention sphere." They'll present their product and mission to the Sharks in Shark Tank episode 1303. A third co-founder, Yogita Agrawal, does not appear on the show.
The three women were chosen for the Forbes 30 Under 30 Asia 2017 in Healthcare & Sciences. It's not so much for the product, but the mission. The SoaPen itself is pretty simple: it's a pen shape device filled with colored soap so kids can draw the soap on their hands. It's made so it takes 20-40 seconds to wash the soap off and the colors let parents or care givers know how thorough the kid was. Kids are notoriously bad at washing their hands and SoaPen makes them want to do it by making it fun.
The Mission
So how does this help save the children? For every 3 SoaPens sold in the US, they donate 1 to a low income community in India. They brought their prototype to the UNICEF Wearables for Good Challenge and won. They developed the actual product with the prize money and funds from a successful Kickstarter campaign in 2017. Now they'd like a Shark's help getting into big box retail – right now they sell in about 100 mom and pop stores, their website and Amazon. They need a Shark to help with marketing. Will a Shark draw up a deal for this product?
My Take on the SoaPen
As a father of five, I had many battles with my kids over handwashing in the past. I can see how this would help with that problem. In fact, at least knowing my kids, I'd probably have to drag them out of the bathroom because the'd be having too much fun with it! As for the mission, I think it's a good thing they are doing – who wouldn't? Anything that helps protect the lives of children is a good thing. I'm in.
Will Sharks Clean Up with this Company?
The Sharks should admire the company's mission too – again, who wouldn't? But a bold mission isn't enough for the Sharks, they want to see sales. Reliable revenue figures aren't available, but I suspect their sales aren't great. In an interview with Meixu, Shubham admits the company was having difficulty selling to schools and that their Facebook and Amazon ads "never really hit it on the nail." (that's a mixed metaphor BTW)
That said, that interview was from February, 2020. They could have figured out marketing by now. If they do have sales, they may get offers. I can totally see Mr. Wonderful doing a royalty offer. Lori may make an offer too if she believes in the product. I don't think Mark or Barbara bid. As for Nariv Tolia, I just don't know.