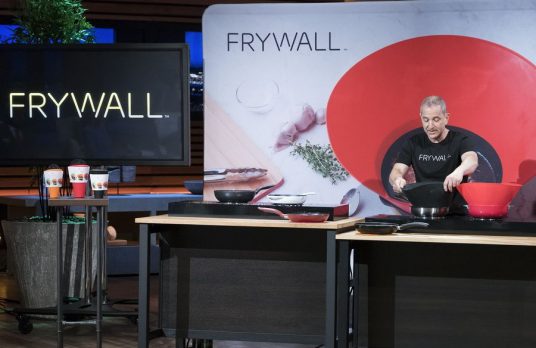 Yair Reiner wants to clean up and get a deal for FryWall, his splatter guard for stove top cooking, in Shark Tank episode 915. Reiner loves cooking and , like most home chefs, hates cleaning up afterwards. He got particularly annoyed while frying a duck breast. Once he cleaned up the splatter mess, he bought some silicone paste online and made the first prototype.
The product is a silicone cone that fits into a frying pan. It looks like a cone you'd put around a pet's neck after an operation. The cone provides a barrier that keeps splatters inside the pan. Unlike a splatter screen, FryWall stays in place while allowing access throughout the cooking process. Reiner won the Today Show's "Next Big Thing" back in April of 2017 and sold the product on QVC shortly thereafter.
The FryWall comes in four sizes" 10″, 11″, 12″ and 13″. Prices range from $22-$30. The silicone cones fit in fry pans and sauce pans and are completely heat resistant. Clean up is easy too as they're dishwasher safe. Reiner likely wants a deal to get mass distribution.
Will a Shark want to clean up with this business?
FryWall Company Information
Video

Posts About FryWall on Shark Tank Blog
FryWall Shark Tank Recap
Yair enters the Tank seeking $100,000 for 10% of his company. He demos the product and the Sharks appear interested. He brings them each a sample and a glass of wine. He tells Lori he has a utility patent. Each unit costs $5.50 to make and it sells for $25. 70% of sales are through his website, the rest are through 55 independent retailers. In the last year he has $800,000 in sales. He is currently in talks with Bed Bath and Beyond.
Kevin likes it and offers $100,000 for 15%. Robert says it's not for him and he goes out. Daymond offers the same as Kevin: $100,000 for 15%.  Then Lori pulls out her "Golden Ticket" and offers $100,000 for 10% plus his gold tooth! Yair asks if Mark is in and Mark says no. He turns and points to Lori and says "you have a deal!"
FryWall Shark Tank Update
The Shark Tank Blog constantly provides updates and follow-ups about entrepreneurs who have appeared on the Shark Tank TV show. It doesn't appear as if Yair and Lori closed their deal as the business does not appear on her website. As of December, 2022, the company is still operating with around $1.5 million in annual revenue.