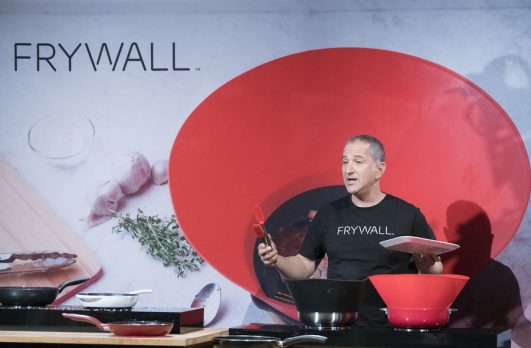 Fry Wall inventor Yair Reiner likes to cook. From the sound of things, he gets pretty fancy in the kitchen, too. One day, while frying a duck breast, he splattered oil all over the stove top. If you ever cleaned up after frying, you know it's a real mess. Once he finished cleaning up, he started brainstorming about how to keep grease and oil from frying from making a mess.
When he first envisioned Fry Wall, he thought of high-grade silicone. He ordered some silicone paste online and made the first prototype. He'll pitch his finished product in the Tank in episode 915. Basically, FryWall is an open-ended, cone-shaped piece of silicone that fits snugly into varying sizes of frying pans. The cone (think protective "cone of shame" for dogs) creates a barrier that keeps the oil from splattering while still allowing access for the home chef.
Reiner was a featured winner on the Today Show's "Next Big Thing" in the spring of 2017 and he sold some product on QVC. He has a hot kitchen gadget. People love anything kitchen related, especially on QVC, so he must have some sales, even if the business is only a little over a year old. He likely needs a Shark's help getting his product into the mass retail market.
My Take on Fry Wall
I don't do a lot of frying, but when I do, I go all out. I have a deep fryer that I only use outdoors because it stinks up the kitchen. Whenever we do fried fish, I head outside. When I get fancy and make my world-famous chicken parm, I use a stove top fry pan. It's always a messy exercise! I have a splatter guard, but they don't work that well.
I'd definitely want one of these (Yair if you're reading this I'd love a Fry Wall for a video review). I like that it's dishwasher safe and I like the open top concept too. I'm willing to bet it keeps pan-fried bacon less messy as well. A lot of people might think the silicone would melt, but the stuff stands up to high heat well. I want one, I'm in.
Will Sharks Hit the Wall?
This product has Lori written all over it. It's already been on QVC and, even though Mr. Wonderful claims to be the king of QVC, Lori is the queen! The product fits with her hero criteria: mass appeal, low-priced, solves a problem. She could get it into all her sales channels quickly and blow it up. It's what Lori does with these types of products.
Lori has another silicone product as well, Safe Grabs. If she already has a manufacturing relationship with a silicone product maker, this would fit right in. Some other Sharks may bid, but I bet Lori becomes a partner in Fry Wall.