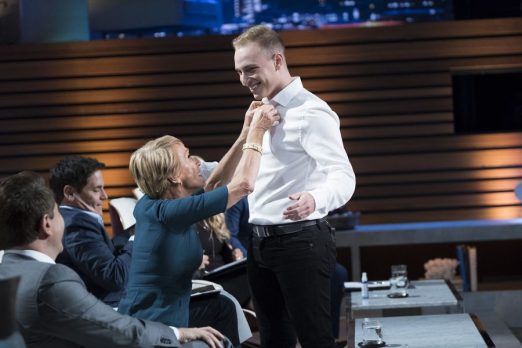 Detra Pel wasn't David Zamarin's first business. The young entrepreneur started – and sold – his first business at age 15. That company, LickYourSole, was a shoe and sneaker detailing service that largely targeted college and pro athletes. Zamarin sold it to an employee for $25,000. As you might imagine, Zamarin has a passion for sneakers, and entrepreneurship. That drove him to invent DetraPel, a "hydrophobic" stain guard spray that uses all natural, non-toxic ingredients.
You see, David bought an expensive pair of Air Jordans – white Air Jordans – and they got dirty fast. This led him to create his product. Since he was "just a high school kid," working with the Philadelphia Start Up Corps, he sought out chemists to help him develop the product. They were easy to find since the mission of the Start Up Corps is to match young entrepreneurs with mentors and others that can help them. Zamarin took that entrepreneurial spirit and his product to Babson College's Entrepreneurial Studies program. He has big plans and he hopes a Shark will join the effort when he pitches his business in episode 916.
Cleaning Up
There are many uses for Detra Pel. Hotels, Casinos and any other place with lots of fabric (think carpet and couches) can protect their assets. This makes them last longer – thus saving money. Regular folks who want protection for nice clothes can use it too, like David did with his Air Jordans. There are many other fabric protection sprays out there, but they're all loaded with nasty chemicals. Detra Pel uses an extract from Lotus flowers as its main ingredient, not chemicals; it's all natural and safe to use.
David has it going on as a twenty something entrepreneur, but enlisting a Shark as a partner would take the business farther faster. He can ask fellow Start Up Corps alumni, Shark Tank "winner" and Scholly CEO Christopher Gray how that works. Gray knows the power of the Shark Tank effect. Hopefully he'll give David some pointers.
My Take on Detra Pel
We've used (dare I say it) Scotch Guard in our home for furniture and car upholstery protection. It works, but it's loaded with nasty chemicals. I like the idea of an all natural product. Based on the videos I've seen of DetraPel in action, it works just as well or better than the aforementioned product.
Fabric protection isn't something I think of every day, it's the type of product you'd buy every year or two. Zamarin needs to chase big users of this kind of product (furniture stores, new car dealerships, hotels etc) that can use it as a value add or even an additional source of revenue. That's where the big money is for this product. Would I try Detra Pel? Yes, but selling a bottle or two every other year won't make this huge. Regardless, I'm sure he knows that – that's why he's in the Shark Tank.
Will Sharks be Attracted to this Repellent?
I'm getting a vibe that David gets a deal. He's the type of young, go-getter the Sharks LOVE. The product itself has mass appeal and it has a big upside. Whether he wants to continue to produce and sell it on his own or license it out to a major company, it's going to make him rich.
I think there will be multiple bids. Rohan Oza would make a good partner. He's a master at branding – and selling – products. He'd be of the mind to build the brand and sell it to a big company. He will bid.
Lori has the Scholly connection and the product fits her hero profile. It demonstrates well, it's cheap, and it has mass appeal. I expect her to bid, too. The other Sharks may or may not join the feeding frenzy, but expect multiple bids, and a deal, for Detra Pel.