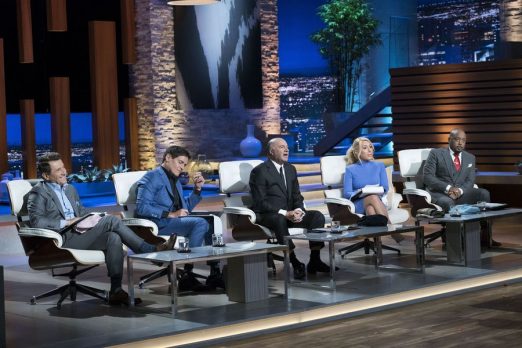 Episode 915 is the first Shark Tank of 2018. It's also the first of two shows for the evening. In this episode, new businesses vie for the Shark's cash and mentorship as entrepreneurs pitch their businesses to the potential wealthy partners.
Peter Baldwin and Chris Mason want to "go commando" and get a Shark to invest in Bird Dogs, their stylish gym shorts that don't require underwear. Yair Reiner showcases FryWall, his silicone splatter guard that won the Today Show's "Next Big Thing" contest. Ranjith Babu and Akshita Iyer want a Shark's help making kitchens safer with Inirv, their intelligent stove knobs that sense smoke, gas and motion. Pier Paolo Visconti, a high-end Miami real estate broker turned entrepreneur pitches his Elliptical Stroller which combines elliptical training with a baby stroller.
Who lands a Shark tonight?
Mark bid $500K for a five percent stake in Plated back in season 5. The deal fell through, but Kevin O'Leary invested in Nick Taranto and Josh Hix's business after a chance encounter at a business event. Plated was the subject of previous updates and, despite tens of millions of dollars in sales, was not profitable. Perhaps tonight we'll see if they are finally in the black.
There are 28 Shark Tank Episodes for Season 9. This season features more appearances by "guest Sharks," including billionaire Sir Richard Branson. The 200th episode also airs this season. Casting is currently closed, but it never hurts to get a head start on season ten! If you would like to appear on the show, check out our Auditions and Casting information.
Episode 915 – The Shark Investors and Entrepreneurs
The Shark Tank Episode 915 entrepreneurs will make their best pitch to the panel of five Shark investors who will use their own money if they choose to invest. The Shark Investors negotiate on the spot without any previous information, which differs from typical negotiations between venture capital investors and entrepreneurial start-ups.
Companies pitching the Shark Investors must go through a rigorous due diligence process before an on-air deal is completed. Shark Tank Blog follow ups help you keep track of the companies that end up successful and the ones that don't complete their deal.
Thank you for reading SharkTankBlog, the number one site for Entrepreneurs, Investors and Fans. Our content updates multiple times day, giving you the latest information on Episode 915, Season 9, and all other seasons and episodes.
Episode 915 Press Release
Shark Tank: Episode 915 (1/7)
ABC'S 'SHARK TANK' RETURNS WITH ALL-NEW BACK-TO-BACK EPISODES,
BEGINNING SUNDAY, JANUARY 7
"Episode 915" – An entrepreneur from Brooklyn, New York, introduces an
ingenious kitchen tool that solves one of the biggest gripes in cooking –
the splatter that sprays your kitchen and clothes anytime you cook; an
entrepreneur from Miami, Florida, invented a special stroller that allows
caregivers to also fit in a workout; and entrepreneurs from New York City
believe they have created the best men's garment out there, on "Shark
Tank," SUNDAY, JAN. 7 (9:00-10:00 p.m. EST), on The ABC
Television Network, streaming and on demand.
In a "Shark Tank" update, entrepreneurs Josh Hix and Nick Taranto, who
walked out of the tank without a deal in Season 5, reveal how a surprise
investment from Kevin O'Leary catapulted their meal kit delivery service,
Plated, to huge success.
The Sharks in this episode are Robert Herjavec, Mark Cuban, Kevin O'Leary,
Lori Greiner and Daymond John.