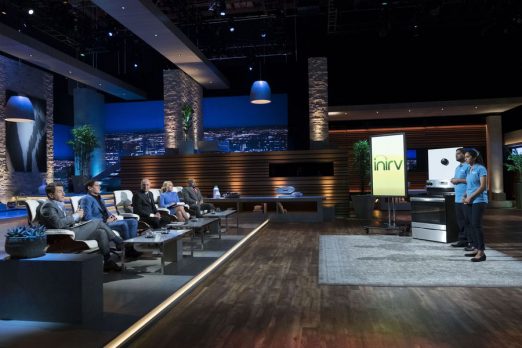 Ranjith Babu and Akshita Iyer want the Sharks to invest in Inirv, their smart stove knobs, in Shark Tank episode 915. Each stove knob interacts with a sensor that  has gas, smoke and motion detectors. If the sensor notices a high level of smoke or gas or doesn't sense motion in the kitchen for a period of time, it "tells" the stove knobs to turn off the stove. As their company mission states: "we aim to revolutionize the way you interact with your kitchen, and create an ecosystem that allows for easier and safer cooking."
Inirv sensors and knobs can be controlled through a smart phone app, Google Home, and Alexa. They only turn the stove off, the knobs won't turn the stove on. The idea is to make your home safer by never leaving the stove on. If you've ever left the house and thought, "uh oh, I left the stove on," Inirv can turn it off for you.
The company got its start with a successful Kickstarter campaign that raised $175,548 in February, 2017. They raised another $183,727 on IndieGoGo too. So far, (as of January 1, 2018) they haven't delivered any products, but it appears they're working toward delivering to backers. They're currently taking "reserve orders" on their website. One sensor unit with one knob costs $99. A complete kit with a sensor unit and four knobs costs $229. Inirv only works on stoves with knobs – if your stove has buttons, you're out of luck. Babu and Iyer likely want a Shark's help with production issues.
Will a Shark sense the urgency of this investment opportunity?
INIRV Company Information
Video

Posts About INIRV on Shark Tank Blog
INIRV Shark Tank Recap
Ranjith and Akshita enter seeking $800,000 for 8% of their business. They give their pitch, emphasizing the dangers of "distracted cooking." Then they equip a stove onstage with their knobs to demonstrate how it works. After the pitch, they hand out samples. They tell the Sharks they're in the prototype stage and they're refining the product. The Sharks are impressed by the $430,000 they raised on Kickstarter. They've also filed for several patents.
Mark doesn't think people will buy it and he's the first Shark to go out. Kevin calls their valuation absurd – he doesn't see how he'll get his money back; he's out. Daymond can't see how he'll get his money back, he's out. Robert offers $800,000 for 20%. When they counter with $800,000 for 10% plus 2.5% advisory shares Robert goes out. Lori likes the idea, but it's not finished yet; she's out too.
INIRV Shark Tank Update
The Shark Tank Blog constantly provides updates and follow-ups about entrepreneurs who have appeared on the Shark Tank TV show. A little less than six months after the original air date, INIRV was sued by the company they contracted to manufacture their knobs. The suit alleged INIRV owed them money for services rendered. In a counter claim filed in September, 2018, INIRV claims the company failed to deliver a working product which cost them sales and investment opportunities. In December, 2018, they reached a settlement. The terms were not disclosed. You can read more about that HERE and HERE.
Fast forward to 2021 and they still haven't delivered to their crowdfunding backers (over 4 years). The crowdfunding pages are filled with angry comments from backers. In February, 2021, they issued an update stating they'll be shipping soon. In May, 2021, they issued another update stating there were issues due to a chip shortage. As of June, 2021, they rebranded and changed their name to Ome. They still have not delivered and they're still taking pre-orders on their website but they claim they are "close" to  having products for delivery.
As of November, 2021, they claim they shipped to their crowdfunding backers, but there are still a lot of comments that indicate some people have not received their knobs. The knobs are available for purchase on the company website with "limited availability." In December, 2021, the company has shipped its products, but there are many refund requests due to stove incompatibility. They can be ordered directly from the company website without delay.
Once again, in February, 2022, they are sold out. Prospective customers are asked to "follow for more updates." As of June, 2022, they're back in stock. As of December, 2022, there are still many disgruntled crowdfunding backers who have not received their knobs. By June, 2023, they are shipping the knobs and engaging in the process of satisfying their crowdfunding backers. Estimated lifetime revenue is $6.1 million.