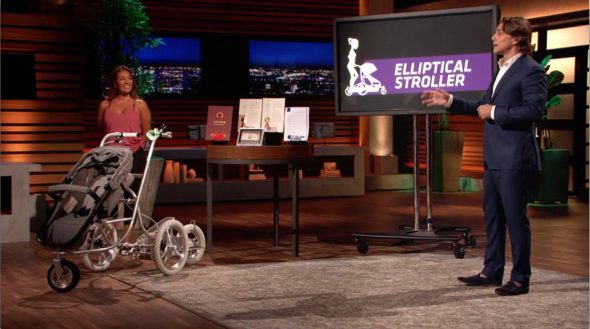 Pier Paolo Visconti seeks to work out a deal with a Shark when he pitches his Elliptical Stroller in episode 915. The Italian born entrepreneur moved to Miami at the turn of the century. His "day job" is selling high-end real estate in Miami. Last year, he listed a $39 million waterfront estate! Those hefty commissions surely helped him develop his stroller start-up.
Back in 2014, when his sister had trouble losing weight after having her second child, Visconti had an "AHA moment." He thought about combining the benefits of an elliptical exercise machine with a stroller so moms could exercise while spending quality time strolling their kids. After several years, he finally developed a working prototype. His product has international patents in the USA, Europe, China, Australia, Mexico and Canada. Now, he's ready to go into production.
The Elliptical Stroller is a true start-up – something that's become rare in the Tank lately. You can use it in "athletic or regular" modes. It folds up like other strollers. It isn't in production now, but the company Facebook page says a "Kickstarter is coming." Visconti already did the hard work getting patents, he likely wants a Shark to help him start production and he'll surely use his appearance to kick-start his Kickstarter.
Will a Shark get on board with this stroller?
Elliptical Stroller Company Information
Posts About Elliptical Stroller on Shark Tank Blog
Elliptical Stroller Shark Tank Recap
Pier enters the Shark Tank seeking $500,000 for 40% of his business. He tells his story, then a woman comes in riding the stroller. The Sharks like it. At this point, it's just a prototype. He has seven different patents. So far, Pier put $170,000 of his own money into the business – $72,000 for patents. Robert gets up and takes it for a spin down the hall. Kevin tries it and has trouble; he also thinks it's too heavy.
After the test drives, there is some conversation about the business. Pier admits he hasn't made any sales. Kevin says he doesn't want to reinvent a business: he's out. Mark quickly follows. Next is Lori who doesn't want to risk the money. Daymond thinks Pier should have focused more on getting customers; he's out. Robert is also critical of his lack of sales, he's out too.
Elliptical Stroller Shark Tank Update
The Shark Tank Blog constantly provides updates and follow-ups about entrepreneurs who have appeared on the Shark Tank TV show. A few months after appearing on Shark Tank, Pier announced on Facebook he was going to Europe to meet with a manufacturer. That is the last social media post the company made. That was April, 2018. As of June, 2021, it is still the last post. The website is up, but you cannot buy a stroller. He's still selling Real Estate in Miami.