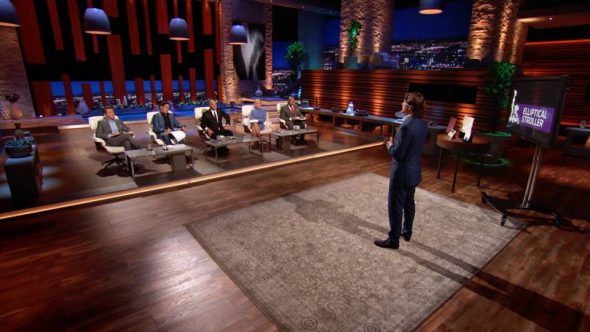 Pier Paolo Visconti, creator of the Elliptical Stepper Stroller, is no stranger to dealing with wealthy "shark-types." The Italian born entrepreneur sells investment properties and high-end residential real estate in the booming Miami, Florida market. In 2016 he listed Miami's most expensive residential property: a $39 million waterfront estate on nearly two acres. It's safe to say, Visconti is used to dealing with high net worth individuals.
Whether that helps him land a Shark in the Tank remains to be seen. He's pitching his invention, the Elliptical Stepper Stroller, in episode 915. He invented it over four years ago. He wanted to give his sister a way to get in shape while spending quality time with her babies. Any mom knows, after having kids, it can be harder to get back into pre-birth shape, no matter how athletic you were pre-partum.
Look around any city park on a nice day and you'll see moms with strollers. Some are regular strollers, some are souped up jogging strollers. Many cities, including Miami, have stroller based exercise classes; they're very popular with new moms. Visconti's stepper stroller takes it to a whole new level. Elliptical training burns more calories than running – that's why there are so many elliptical trainers in gyms.
While there probably is demand for this product, you can't buy one yet. Visconti spent the better part of the last four years getting international patents for his invention, but he's still in the pre-production/prototype stage. When it's in "athletic mode," users propel the stroller just like an elliptical machine at the gym. He says you can use it for pets, too. Visconti likely wants a Shark to help him start mass production and get the word out about the product, we'll see if any bite.
My Take on the Elliptical Stepper Stroller
As a father of five, I found myself pushing a stroller many times over the years. We had the simple fabric style and several two-seaters over the years. I even had an old-school pram with the big wheels and springs. I never really thought of a jogging stroller, because the thought of jogging makes me ill.
I do go to the gym regularly – been going for nearly a year now. I go five times a week and spend 33 minutes on an elliptical machine each time. It's great exercise. I don't know if I'd want one strapped to a stroller though. I think it might make it go too fast.
But that's just me. My stroller pushing days are over – at least until some grand-kids come along. If the amount of jogging mommies I see at the beach on a regular basis is any indication, the Elliptical Stroller can probably find a niche. It's nothing I'll be buying, but I wish Mr. Visconti well.
Will Sharks Take a Stroll?
Pier has a tough road ahead in the Tank. Baby products are hit and miss to begin with, and his product is very niche within a niche. There are hundreds of stroller brands out there, albeit none with elliptical propulsion. Still, it's a crowded market. This stroller isn't for everyone either. The majority of moms will opt for a regular stroller.
The fact that he doesn't have a product for sale is problematic too. The Sharks will go out one after another with the "too early" objection. Visconti's best bet is to make sure the product interests viewers so he can launch the Kickstarter campaign he promised on his Facebook page in the immediate aftermath of the show. If he does that, he won't need a Shark. Besides, he can always fall back on million dollar listings.