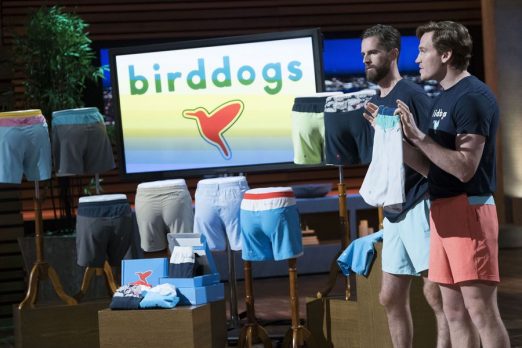 Peter Baldwin got the idea for BirdDogs while experiencing a wedgie on a sales trip to London. He was in a suit, crammed into an airplane seat and his undies were bunching up. It was then he decided he wanted to leave his job as an IBM sales executive and start his own business. He wanted the freedom entrepreneurship brings to life and he wanted his product/business to celebrate that freedom.
If you're a guy, freedom means walking around "unencumbered. Some call it "going commando" too. The feeling of walking around in shorts without underwear is empowering for men and Baldwin, along with business partner Chris Mason, hopes to share the beauty of that freedom with the Sharks in episode 915.
Their product, BirdDogs, is a line of men's gym shorts that don't need under wear. They're soft, comfortable shorts with a deep pocket, lined with an anti microbial, odor blocking fabric that men can wear anywhere. BirdDogs are quite likely the only shorts you'll ever need – though Baldwin and Mason want guys to buy more than one pair! If you do, the precious pair men tote around daily can hang loose in style.
So far, the company is doing OK, but an appearance on Shark Tank will undoubtedly boost brand awareness. If they get a deal, a Shark will accelerate growth faster than you can say "born free."
My Take on BirdDogs
Since I moved to Florida, I live in gym shorts. Full time blogging doesn't require a fancy wardrobe, so gym shorts are the order of the day. I even wear them fishing and swimming and I do "go commando" frequently – especially in the summer time. With the current bombo genesis cold snap we're having (it's about 60 degrees as I type this – brrrr), I am uncharacteristically wearing sweat pants – with a full complement of tiny whities underneath.
As a gym short wearing commando, I love this product. While I likely wouldn't take them on a fishing trip (I reserve older shorts for that cuz it can be a bloody business), I could see wearing them around the house and around town. There are many styles from subdued solid hues to wild floral designs and everything in between. BirdDogs would be in my wardrobe category of "casual dress" shorts – suitable for the gym, lunch or dinner out, and regular, everyday wear. I couldn't wear them to the country club – unless the guys come up with a dress khaki version.
At $50-$60 per pair, they're a bit pricier than my standard gym shorts, but I can see myself getting a pair or two. Comfort and style come at a price and I am willing to pay for it if it's a quality product. I wish Chris and Peter well on their journey. I am IN.
Will the Sharks Go Commando and Invest?
Whenever someone comes in with a clothing line, Daymond is the obvious "target Shark." This product and pitch will get a lot of chuckles, but te numbers will be what makes a deal. I can't see Lori going in for this as it's too "guy-ish." The male Sharks, however, could have some interest as they know the awesomeness of feeling free.
Mark is a casual guy and he probably owns a few pairs of basketball/gym shorts. He's certainly a customer, but I don't think he's a bidder tonight. The same goes for Mr. Wonderful; he may make a ridiculous offer, but I don't think he joins the BirdDogs team.
That leaves Robert and Daymond. Daymond is often leery of investing in fashion businesses, despite his prowess in the field. He needs a fair amount of skin in the game to be interested – at least 20%. He'll offer if he likes the guys and the product, but his involvement comes at a price. Robert seems to go with online "bro-type" products – as he did with Tipsy Elves and SandCloud. BirdDogs fits the profile, so Robert may jump on board too. Look for some bidding on this company, but not necessarily a deal.