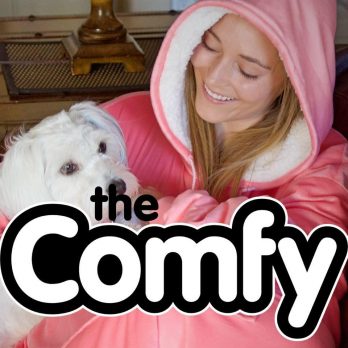 Brian and Michael Speciale hope to start their business in the Tank when they pitch The Comfy, their sweatshirt/blanket, in the Shark Tank Holiday Special – episode 910. Their product, a humongous hooded, fleece-lined sweatshirt that doubles as a blanket, isn't even in production yet. They'll be pitching a prototype when they enter the Shark Tank.
How the brothers got to the Tank is an interesting story. Michael was staying with Brian in his Phoenix area home while going through a divorce. One day, he noticed his nephew lounging on the couch in an oversized sweatshirt. There was a huge fleece blanket on the couch too and a lightbulb went off. He and Brian thought a big sweatshirt made from blanket material would be the comfiest thing ever, so they talked about the idea for a few weeks.
When they decided to go for it, they got some prototypes made and sought out overseas manufacturing. The first prototype was done in April, 2017. Shortly after that, they flew to an open audition in Denver and got picked to tape for Shark Tank. From the time they made their first prototype to their air date spanned only ten months – quite a feat for any Shark Tank business.
They won't have product for sale when they air. Brian and Michael have a Kickstarter launching on the night they air and they'll be taking pre-orders on show night. They claim they'll have The Original Comfy ready to ship just after Christmas. They tried a campaign around the time they taped the show, but pulled it because they felt they weren't ready. Even the Speciales acknowledge they are "too early" for the Sharks, but the brothers believe you have to  "get your butt off the couch and make it happen." We'll see if it happens with or without a Shark.
My Take on The Comfy
When I first saw this, I thought it was like a Snuggy on steroids. The Comfy is really more blanket than sweatshirt and it's a lot bigger and thicker than a Snuggy. While a Snuggy is primarily for around the house, a Comfy can go to sporting events, camping trips, the beach, a cold movie theater, even an airplane. Since I live in a tropical climate, I'm probably not a user, but I have kids in cold climates who'd LOVE this product. (My youngest got one for Christmas in 2020).
Product aside, The Comfy is a throwback to what Shark Tank should be. As the show grew, fewer true start-ups appear in the Tank. In many cases, Shark Tank evolved into a giant PR machine for businesses over the years. The original mission for businesses to go into the Tank to "start, grow or save their businesses" got lost along the way.
The Speciales will literally start their business the night their show airs. The last entrepreneur to launch on Shark Tank was Shelton Wilder with her Shemie back in season four. Since then, many successful (and a few unsuccessful) Kickstarter businesses appeared in the Tank. Kickstarter became a place where producers could recruit interesting businesses for the show.
Five years went by before the Comfy came along to launch on-air. While I don't think this pitch signals a wholesale change in the format of the show, it's nice to see a true start-up in the Tank. Will a Shark invest, or is it "too early?"
Will Sharks get Comfy and Invest?
All indicators point to the "too early" objection, except one. Obviously, when a company doesn't even have an active web site, it's not a good indicator of a deal. Planning a Kickstarter launch on show night isn't either. While I think the Comfy will ultimately fare well and sell a lot of product, I don't think they get a deal on air.
The only thing that indicates they could is their inventory. Kickstarters usually don't have inventory. Most campaigns start to get that first run of production going. The stock of inventory ready for delivery could have been paid for by a Shark who recognizes the power of combining Shark Tank with Kickstarter. If the Speciales get a deal, it could signal a renewed trend and be a nice Christmas present for the Original Comfy and future start-ups in the Shark Tank.