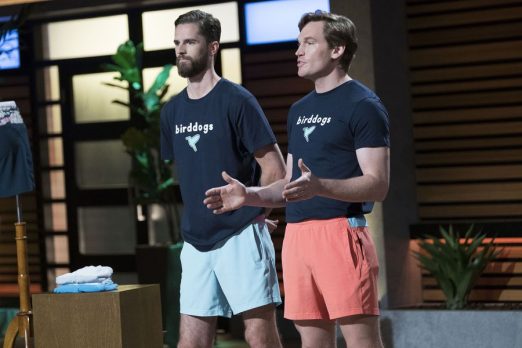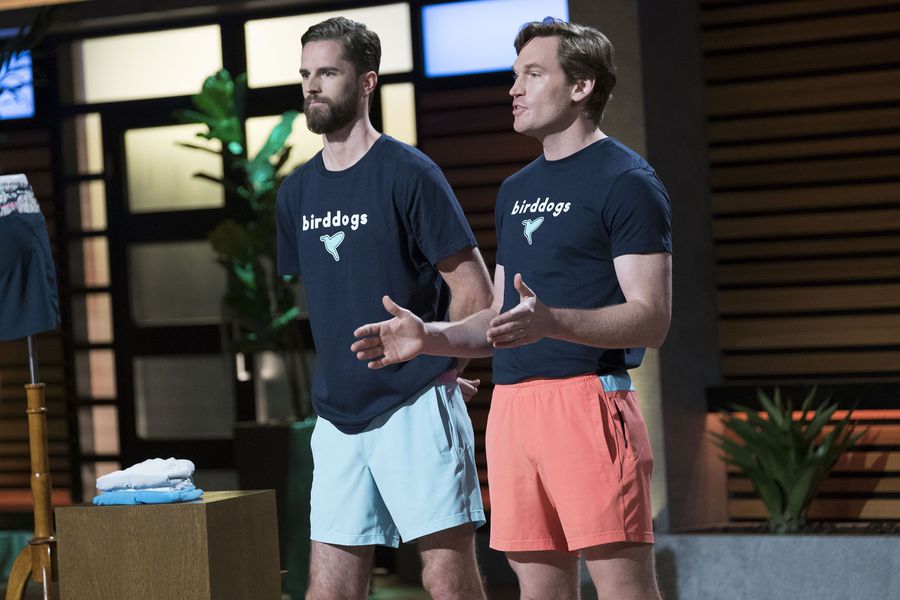 Chris Mason and Peter Baldwin hope to score a deal for Bird Dogs, their gym shorts for guys, in Shark Tank episode 915. Guys wear Bird Dogs without underwear, letting them "go commando" without worries. The secret is an interior moisture wicking fabric with silver ion nano particle threads. This lets guys hang loose without worrying about odors.
Baldwin first envisioned Bird Dogs on a return flight from Europe. The Harvard MBA grad and former IBM sales executive was on a business trip. He was wearing a suit and his undies were giving him a wedgie. In that moment, he decided to get out of the corporate world and sell shorts that required no underwear. When he returned from the trip, he contacted Jeffrey Thrasher, Head of Men's Design at Lululemon, and had him design his dream shorts.
Since then, the company won rave reviews for the product's style and comfort. They're basically gym shorts with a pocket and built-in underwear. They dry faster than most bathing suits, too. The shorts come in about three dozen styles and range in price from $55-$60. Baldwin and Mason likely want a Shark's help getting the brand into big box retail.
Will a Shark go commando and invest?
Bird Dogs Company Information
Video

Posts About Bird Dogs on Shark Tank Blog
BirdDogs Let Men "Go Commando"
Bird Dogs Shark Tank Recap
Chris and Peter enter seeking $250,000 for 1.5% of their business. They do their rather corny pitch then hand out samples. Lori asks about sales. They did $200,000 their first year, $2.1 million the second year and they are projecting $6 million for the current year(2018). They make them for $18 and sell them for $55. Factoring in shipping and marketing, they make $37 on each pair of shorts they sell.
Mark thinks they should be spending less on marketing. They really start turning the Sharks off with their cockiness. Then they reveal investors own 11% of the company. When they say inventory is their biggest issue, Mark calls them out on not planning ahead.
Lori agrees with Mark and says the guys are "birddogging the answers;" she's out. Robert says the guys are "full of BS." Mark thinks they are over confident; he's out. Robert is next followed by Daymond. Kevin thinks they'd be hard to work with and he's the final Shark out.
Bird Dogs Shark Tank Update
The Shark Tank Blog constantly provides updates and follow-ups about entrepreneurs who have appeared on the Shark Tank TV show. After their original air date, the company saw the typical surge in sales due to the Shark Tank Effect. They introduced pants with built in underwear, too. In July, 2020, the company was sued for violations of the Americans with Disabilities Act and New York State Human Rights Law. The plaintiff, Angel Rodriguez, alleges the company website violates WCAG 2.1 accessibility standards. The suit claims the company website is not accessible to or usable by blind individuals. The alleged violations have not been fixed as of November, 2022.
Some accuse the brand as being "douchy" for their frat boy marketing tactics. Even if they're "the douchiest clothing brand in the world," they must be doing something right. As of August, 2023, they have annual revenue of $15 million.