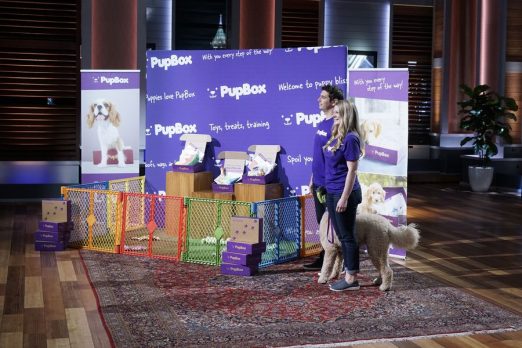 Ben and Ariel Zvaifler created Pup Box for their baby Maggie, whom they refer to as their "furdaughter." Maggie is their dog and was their puppy. They found out the struggles of raising, training, and living with a new puppy. When they found it more exhausting to get the proper training tips, treats, and toys as their baby grew, they saw opportunity.
That opportunity became PupBox, a monthly subscription box service specifically tailored for growing puppies. When you go to their site, you create a profile for your puppy. Then they can match your puppy with age appropriate materials that help guide the new puppy owner through the ever evolving growth cycle. Puppy parents choose how long they want the service to last. Each Pup Box has at least forty dollars worth of products in it. A one-off box costs $39, a year's subscription costs $29 per month, and their most popular plan – the three-month plan – is $34.
While there are other dog subscription box services for dogs, Pup Box is the first to target the puppy. Since all dogs are puppies first, as long as people own dogs, they should have a market. When they pitch the Sharks in episode 810, they'll need to make a strong case for the viability of their business.
My Take on Pup Box
Puppies are one of the cutest things on earth. If you go to any public place with a puppy, you will be immediately mobbed! Even though they are cute, they can be a real pain. They pee and poop everywhere, they chew things up, and generally create mischief in their homes. I remember our puppy climbing up on the kitchen table to jump over the barrier we had set up to keep her out of the living room!
When we trained our dog, we read a lot of training books and talked to other dog owners for training tips. We went to the pet store and bought treats and goodies. It took time. A service like Pup Box saves time and can help people train and nurture their puppies. If it were available 16 years ago, I would have bought it. For that reason, I am in.
Do Sharks Subscribe to this Idea?
Subscription Box services are nothing new in the Shark Tank. Surprise Ride, Misto Box, and others have been in the Tank, with varying degrees of success. The key to a successful subscription service is providing value and convenience, whether it's coffee, socks, razor blades, or puppy products. The business also needs to make money.
If Pup Box has a solid proposition and a lot of customers, they may have a shot at a deal. Numbers are very important for a business like this. One of the Sharks will ask about customer acquisition cost. If they can answer that question authoritatively, and they have good sales and margins, I predict they'll leave with a deal.