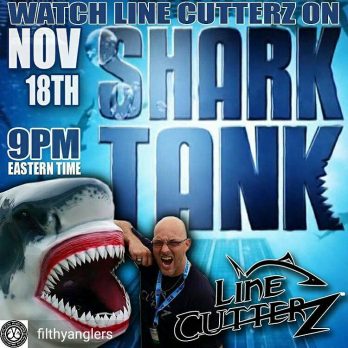 Like many fishermen, Vance Zahorski had problems fiddling with fishing line, especially while in his kayak, so he created Line Cutters – a ring that quickly and easily cuts fishing line without having to fumble with a knife or pliers. It's one of those "why didn't I think of that" products fishermen LOVE. Vance also sells a hook pulling ring that safely holds a hook while tying knots, fish grip fish holders, signature fishing rods, and fishing lures.
Vance has been a fisherman for nearly 40 years. He started fishing with his grandfather as a young boy in Wisconsin. Like a lot of young boys, he continued fishing into adulthood. It's his passion, and now it's his business. For most fishermen, cutting line while fishing can be a hassle at best and downright dangerous at worst. Fiddling with knives and scissors while in a rocky boat or kayak is tricky. With a simple ring, it's a snap. Ditto for holding hooks while tying a knot.
Vance started Line Cutterz in 2014 when he invented the ring that cuts fishing line. It's patent pending and sells internationally for around twelve bucks. Vance knows sales, too. He is a former appliance salesman and mortgage originator. The Sharks will want to see sales if they are going to invest in this product.
My Take on Line Cutters
Like Vance, I started fishing as a boy (4 years old) with my grandfather in local lakes and ponds in the Boston area. Nearly 50 years later, I am still an avid fisherman. In fact, I go fishing every day for a few hours after I drop my daughter off at school. I fish from shore, kayaks, and boats.
I've always been a bit of a clutz cutting line and tying knots, so I see the genius of this invention. I LOVE both the line cutting and hook pulling rings. They make it much easier than fumbling around the "old way." I am getting some for my tackle box! For that reason, I am IN!
Do Sharks cut a deal?
We've seen other fishing products have success in the Tank: Shell Bobbers, The World Record Striper Company, and this season's Fish Call. Mark invested in Shell Bobbers and The World Record Striper Company; Robert invested in the Fish Call (though the deal isn't finalized). Daymond, the only avowed fisherman in the Tank, hasn't invested in a fishing-related business to date, but this could be his time.
Line Cutters merge "fashion" with fishing and function. That's something Daymond can believe in! As a fisherman, he'll see this is a useful tool, not another gimmicky fishing product. If sales are good and the valuation is fair, I think Daymond will end up owning part of this business.