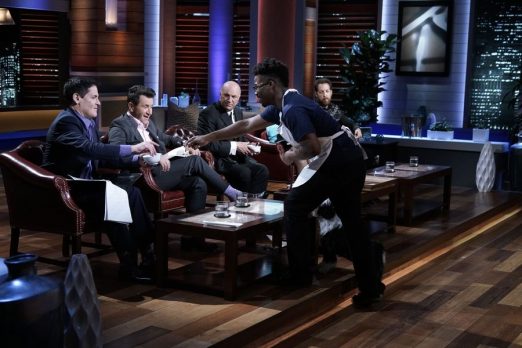 Renaldo Webb started Pet Plate, his freshly made dog food business, because he worked in the pet food industry and didn't like what he saw. He pitches his products to the Sharks in Shark Tank episode 807. Many commercially available dog foods contain some nasty ingredients, and Renaldo decided to do something about it. Working from a rented commercial kitchen space in Brooklyn, NY, he churns out home-made dog food that's fit for human consumption.
Each meal he produces are nutritionally balanced to give your dog a healthy diet without all the crap that goes into store-bought dog food. He delivers Pet Plate meals free in New York City, outside of that you need to pay for shipping. The home-made food doesn't come cheap. A one month supply runs anywhere from $100-$400, depending on the size of your dog.
His vision is delivering Pet Plate meals to dog lovers nationwide. He currently rents space at Brooklyn FoodWorks, an incubator of sorts for food entrepreneurs. They provide advice along with their kitchen space. Renaldo sees a real opportunity to tap into the $9.2 billion per year dog food market by offering a fresh, albeit upscale, option to typical dog food. The question is, will the Sharks like it?
My Take on Pet Plate
Our dog is 15 and a half years old; that's pretty old for a dog her size (80 pounds). Besides an abundance of love, we attribute her longevity to her diet. I made home-made dog food for her for years. One of her favorites is beef liver, peas, and whole grain brown rice. She frequently gets to eat whatever we're having for dinner. She LOVES fish, but she doesn't like broccoli!
We're careful not to give her things that will harm her – like onions – but she'll eat many meals alongside the family. Steak night is a favorite! I actually got the idea for making home-made dog food from an aunt. She had a little sheep dog named Benji (yes like the one in the movies) when I was a small child. He ate at the table with my aunt and ate whatever she was serving. He lived until age 18.
I think Renaldo is on to something with PetPlate. There are a lot of dog owners who want the best for their pets. Whether they're willing or able to shell out the kind of money he wants is probably his greatest challenge. Since I already do what he does for my own dog, I'm probably not a customer, but his product is great for dogs, so I wish him well.
Do Sharks eat Dog Food?
There are dog lovers in the Shark Tank – most notably Robert. Whether a love for dogs is enough to invest is another story. Pet foods have a checkered history in the Shark Tank because distribution is specialized and problematic. Distributing fresh food is the real challenge and an unlikely investor could emerge: Mr. Wonderful.
Kevin O'Leary invested in Plated, not on air, but after the show. Plated has a fresh food distribution infrastructure Renaldo could tap in to. Mr. Wonderful will want a big piece of the business, but it could be a good match. Distribution is already in place, as are commercial facilities. The two businesses go well together. Renaldo once referred to Pet Plate as "the Blue Apron of pet food." He'll need to change his analogy to please Mr. Wonderful, but a partnership makes a lot of sense.