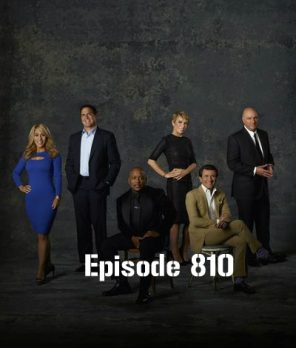 Daymond, Lori, Mark, Kevin, and Robert make up the panel in Shark Tank episode 810 as four new businesses enter the Tank seeking funds and partnerships. Karl Workman hopes to find a fit for Barbell Apparel, his line of jeans and pants for athletes with muscular legs. Catherine Arnston hopes Sharks like algae when she has them taste EnergyBits – a line of algae-based snacks and supplements. Ben and Ariel Zvaifler (with the help of some cute puppies) pitch PupBox, a puppy-centric subscription box service that provides treats, toys, accessories, and training aids for puppy owners. "Fishtrepreneur" Vance Zahorski wants to hook a Shark with Line Cutterz, his rings that help fishermen safely and easily cut fishing line and hold hooks while tying knots.
Which company swims in the Tank without getting eaten?
Lori invested $275K for 25% of Bantam Bagels in season six. Since then, sales are going up. They had a Beyond the Tank segment and an update in season seven, episode 705. Tonights segment is yet another chapter in this company's Shark Tank Success story.
There are 28 Shark Tank Episodes for Season 8. This season features more appearances by Chris Sacca and a host of other surprises. Casting is currently closed, but it never hurts to get a head start on season nine! If you would like to appear on the show, check out our Auditions and Casting information.
Episode 810 – The Shark Investors and Entrepreneurs
The Shark Tank Episode 810 entrepreneurs will make their best pitch to the panel of five Shark investors who will use their own money if they choose to invest. The Shark Investors negotiate on the spot without any previous information, which differs from typical negotiations between venture capital investors and entrepreneurial start-ups.
Companies pitching the Shark Investors must go through a rigorous due diligence process before an on-air deal is completed. Shark Tank Blog follow ups help you keep track of the companies that end up successful and the ones that don't complete their deal.
Thank you for reading SharkTankBlog, the number one site for Entrepreneurs, Investors and Fans. Our content updates multiple times day, giving you the latest information on Episode 810, Season 8, and all other seasons and episodes.
Episode 810 Press Release
Episode 810 (11/18)
THE SHARKS GET A SPECIAL DELIVERY THEY CAN'T RESIST, AND A PASSIONATE ENTREPRENEUR BELIEVES ALGAE IS THE CURE TO MANY OF OUR AILMENTS, ON A NEW EPISODE OF 'SHARK TANK'
"Episode 810" – An entrepreneurial couple from San Diego, California, ply the Sharks with adorable puppies in hopes of getting them to invest in their subscription service for puppy products; a woman from Boston, Massachusetts, is passionate about popularizing algae as a nutritional health supplement in America; when two longtime buddies from Las Vegas, Nevada, couldn't find clothes to fit their athletic builds, they designed apparel geared to this underserved market; and an avid fisherman from Hudson, Wisconsin, wants to cut loose and make a deal for his fishing line cutting tool. Also, a follow-up with Nick and Elyse Oleksak from New York and their Bantam Bagels business, which Lori Greiner invested in during season six, on "Shark Tank," airing FRIDAY, NOVEMBER 18 (9:00-10:01 p.m. EST), on the ABC Television Network.
The Sharks in this episode are Mark Cuban, Kevin O'Leary, Daymond John, Lori Greiner, Robert Herjavec.