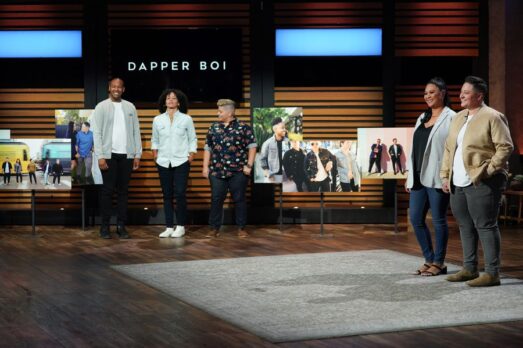 Wife and wife entrepreneurs Charisse and Vicky Pasche pitch Dapper Boi, their line of gender neutral clothing, in Shark Tank episode 1417. The couple didn't like the binary clothing choices they found in most clothing stores, so they envisioned a line that, while looking masculine, fit a woman's body. Their first product, Androgynous Jeans, came to life back in 2015 with a successful Kickstarter campaign that raised $26,364.
After that initial success, the couple kept the crowdfunding model to grow their line. Whenever they introduce a new product, they'd crowdfund it from their website. This allowed for customer feedback and for growing the business without a lot of capitol investment. They also raised $282,414 at a $6 million valuation on StartEngine back in April, 2020.
Their line includes jeans, shirts, blazers, chinos, shorts, bathing suits and more. All have a more masculine look while being fitted "for people with curves." Pricing seems reasonable with all products coming in at less than $100. The company has over $1 million in lifetime sales and is poised for their next stage of growth. They likely want a Shark's cash for inventory so they won't have to crowdfund everything in the future.
Company Information
Video

Posts about Dapper Boi on Shark Tank Blog
Dapper Boi Shark Tank Recap
Charisse and Vicky enter the Shark Tank seeking $250,000 for 5% in their company. Charisse says when you go clothes shopping, you have a choice between a men's section and a woman's section. Vicky says neither of those options work for her. The women's section typically has form fitting clothing that works for Charisse but not Vicky. Vicky shops in the men's section and, while she likes the styles, the clothing doesn't fit her shape. They believe shopping for clothes should be based on body type, not gender. That's why they started Dapper Boi, a genderless and size inclusive clothing brand made to fit you inside and out.
The Sharks examine their samples. Kevin asks if they're going direct to consumer because they'd be asking retailers to add a third category. Vicky says direct to consumer is the way to go. They're driving traffic with Facebook and Instagram and are starting to use influencer marketing as well. They started Dapper Boi 7 years ago with a pair of jeans (see the Kickstarter for this). Vicky used to shop for men's jeans, but the clothes didn't fit her body type properly. They noticed others with the same problem.
Lifetime sales over 7 years is $3.5 million. The way they run the business is on a pre order basis, so the business is completely bootstrapped. Last year's (2021) sales were $1.2 million. Landed price for jeans is $15 and they sell for $99. The pre order looks like this: they sell initially at a discount (with 50% margins) and it creates a sense of urgency with their customers. They have 51% repeat customers. When customers pre order, they get their clothes in 6-7 weeks but Covid supply chain issues caused some to wait 6-7 months. They have $60,000 worth of inventory, but it's across a lot of sizes. They only have $100 in the bank. They even sold their house to fund the business. They're $150,000 in the red this year and they lost $313,000 in 2021.
Mark says it doesn't add up for him; they have huge margins but no profits. Vicky reveals she spent 30% of profits on a marketing consultant that didn't work out. They were trying to expand beyond their community, but they weren't ready for that.
Daymond remarks that FUBU has been used a lot in the LGBTQ community – Vicky agrees. Daymond asks why they're trying to go beyond their community. He offers to mentor them, but he goes out. Lori has never had a clothing business; she doesn't think she can add value and goes out. Barbara admires their mission but doesn't think $250,000 will get them over the hump; she's out. When Vicky says they're about to do a collaboration, Mark tells them their community is the most important thing about their business, the clothing is secondary. He has differing visions of what the business should be; he's out. Kevin says the women are all in for 2000% which is not a good place for an investor to be; he's out. Before they leave the stage, Daymond gives them his number.
Dapper Boi Shark Tank Update
The Shark Tank Blog constantly provides updates and follow-ups about entrepreneurs who have appeared on the Shark Tank TV show.
When Charisse and Vicky left the Tank, it appeared their business was headed for failure. In a blog post on the Dapper Boi website, the couple reveals they "received some much needed funding from a larger investor" on the day they taped their Shark Tank segment. This was days after selling their house and the investment kept them out of bankruptcy. The first rerun of this episode in July, 2023 is just 3 months after the original air date. The business is still operational, but it is unclear how much mentoring Daymond gave them. Could it be he was the mystery "larger investor?"
The Shark Tank Blog will follow-up on Dapper Boi & Charisse and Vicky Pasche as more details become available.