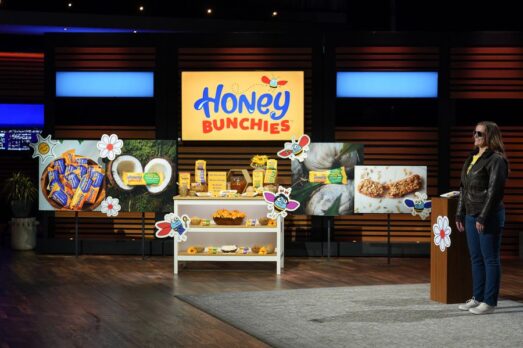 Kendra Bennett hopes to "bee" successful in the Shark Tank with Honey Bunchies, her honey based snack bars, in Shark Tank episode 1417. Kendra and her family started the business back in 2015 after her dad recreated an old honey bar recipe Kendra's mom made over 35 years prior. They had no recipe to work from, but what he made is what you find in stores today. The name "Honey Bunchies" is what Kendra's parents call each other!
They got started going door to door to "anyone that had a register" selling wholesale from hand held coolers. Each bar is hand made by Kendra, her parents and her brother in a commercial kitchen in Longmont, CO. The bars are 42% honey which is then rolled in sunflower kernels, pecans, or peanuts. They're soy-free, gluten-free and grain-free too.
The company has grown over the years. The products are in selected Whole Foods, Safeways, Natural Grocers, independent shops and Amazon. The bars cost $36 for a dozen. Honey Bunchies is set to roll out in Wal Mart later in 2023 with a new name. They're also testing in Dallas area 7-11 stores; if that goes well, they'll go to 1000 stores and if that goes well, they'll go nationwide. Kendra and family likely want a Sharks help to fuel this exponential growth with some automated machinery.
Company Information
Video

Posts about Honey Bunchies on Shark Tank Blog
Honey Bunchies Bars – (Now Bon Bee)
Honey Bunchies Shark Tank Recap
Kendra enters the Shark Tank seeking $200,000 for 10% of her business. Kendra's dad was an F-4 fighter pilot in Viet Nam and lived on candy bars and cola. This caused him to become hyperglycemic and nearly diabetic. That doesn't fly when you're a fighter pilot. Kendra's mom gave him a honey based snack that gave him a healthy source of energy. 35 years later, her father tried to recreate the recipe, but he didn't get it right; he actually made something better! He made something unique in the energy bar market: 42% of every bar is pure honey mixed with nuts and topped with lightly salted sunflower kernels. They're gluten free, dairy free, soy free and grain free.
The Sharks try their samples and love them. Kendra tells the Sharks her dad named the bar after her mom who he called "honey bunchy." Her dad started the company in 2010, but he had no business background so the first three years was "building the foundation." They started retailing in 2013 with Whole Foods. They're currently in 1200 Whole Foods. Thay're also in Kroger, Safeway and Natural Grocers, plus a lot of independent shops.
The bars retail for $2.99 and cost 81 cents to make. Sales year to date (mid 2022) are $300,000 and she expects to end the year at $519,000 and profit $22,000. Next year they're projecting $2.4 to $4.2 million due to a test in 7/11, relationships with 3 nationwide distributors, a national retailer who'll sell whole boxes of bars, increased online sales and a private label client owned by 2 athletes. She also has a booth at the annual 7/11 trade show to sell into 8500 stores. The Sharks question her enthusiasm about 7/11 orders.
Mark says he loves the product, but he thinks the energy bar/candy bar business is too competitive; he's out. Lori loves her parents' story, but she's not a big fan of honey; she's out. Barbara thinks Kendra is too much of an optimist and optimists tend to overestimate; she's out. Daymond says family businesses are tough for an investor; he's out. Kevin thinks the amount of work ahead for Kendra is unbelievable. Kendra tears up and talks about how her family put everything on the line. Kevin says he doesn't make emotional decisions, he can't take the journey with her; he's out too.
Honey Bunchies Shark Tank Update
The Shark Tank Blog constantly provides updates and follow-ups about entrepreneurs who have appeared on the Shark Tank TV show. The company changed their name to Bon Bee right before they appeared on Shark Tank. Their products are all over the country now in Kroger's, Natural Grocer's, HyVee, 7/11, Whole Foods, King Sooper and dozens of mom and pop grocers and health food stores. The bars haven't rolled out in Wal Mart as of July, 2023, but Kendra said it would be "later in 2023."
The Shark Tank Blog will follow-up on Honey Bunchies & Kendra Bennett as more details become available.