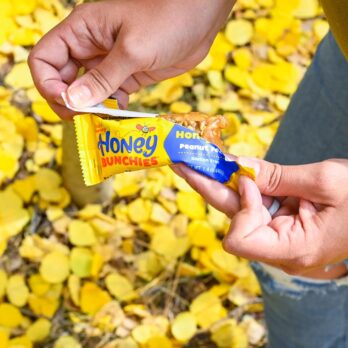 By the time Honey Bunchies Bars entrepreneur Kendra Bennett pitches her healthy snack bars in Shark Tank episode 1417, the company already rebranded. The new name, Bon Bee, premiered one week before the original air date. The company Facebook page says they changed the name "to make sure that we had a trademark that would grow with us."
The name change comes before their Shark Tank appearance and before the company is poised to grow exponentially. The bars are rolling out in Wal Mart later in 2023 and they are testing in 7-11 stores with the potential to be in all stores nationally. That's some pretty good growth plans considering they're in around 100 stores as of the original air date!
The bars are 42% honey and rolled in nuts or sunflower seeds. At 210 calories per bar, they're a sweet treat that's gluten-free, dairy-free, peanut-free, soy-free, and grain-free. The business is a family affair, too. Kendra owns and runs it with her dad (an Air Force Veteran), her mom and her brother. Together, they're hoping to partner with a Shark to help manage the growth they're about to experience.
My Take on Honey Bunchies Bars
I ordered some of these from Amazon and they are YUMMY! If you like sweet treats, these really fit the bill. I got the Coconut Almond Bars and they are off the hook. I think this brand can really catch on with the right publicity. I'm in.
Do Sharks Like Honey?
I'm guessing Honey Bunchies Bars (or should I say Bon Bee) gets a deal. The name change and the two big deals smell like a Shark is involved. I don't think it's Kevin, he shies away from grocery items. Likewise for Daymond. I'm thinking either Lori, Mark or Barbara get involved. All have snack food experience.
Mark has many healthy snack foods in his portfoilio as do Barbara and Lori. The name change is a branding exercise which all three have engaged in as well. I think they all make offers and there could possibly be a "team" Shark deal.