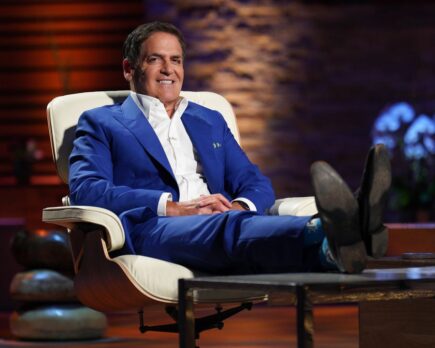 Mark, Barbara, Kevin, Lori and Daymond are the Shark panelists for Shark Tank episode 1417. Together they'll hear pitches from four businesses seeking the Shark's cash and mentorship. Will any of the Sharks make an investment tonight?
Kendra Bennett hopes for a sweet deal for Honey Bunchies, her 42% honey snack bars with nuts. Charisse and Vicky Pasche seek a good fit for Dapper Boi, their gender neutral clothing line with masculine looks for people with curves. Kayla Lupean showcases Play Maysie, her line of portable dollhouses disguised as old school lunchboxes. Hector Salvidar gives the Sharks a taste of Tia Lupita Foods, his line of better for you Mexican food that includes chips and tortillas made from the prickly pear cactus, hot sauces and "salsa macha." Which entrepreneurs catch a Shark tonight?
In Shark Tank episode 1401, Barbara and Robert teamed up to offer $600,000 plus a $200,000 line of credit for 8% equity in Oogiebear. The product picks boogers from infants' noses. Tonight we'll find out what's happened since doing this deal on the season 14 premier.
The Sharks
---
Daymond John
Barbara Corcoran
There are 26  Shark Tank Episodes for Season 14. This season features the six "regular" Sharks: Mark, Daymond Kevin, Lori, Barbara and Robert. There are two new guest Sharks for season 14: Actress Gwyneth Paltrow and Door Dash founder Tony Xu. Returning "recurring" Sharks are Emma Grede, Peter Jones, Kendra Scott and Daniel Lubetzky. Casting is currently closed, but it never hurts to get a head start on season fourteen! If you would like to appear on the show, check out our Auditions and Casting information.
Episode 1417 – The Shark Investors and Entrepreneurs
The Shark Tank Episode 1417 entrepreneurs will make their best pitch to the panel of five Shark investors who will use their own money if they choose to invest. The Shark Investors negotiate on the spot without any previous information, which differs from typical negotiations between venture capital investors and entrepreneurial start-ups.
Companies pitching the Shark Investors must go through a rigorous due diligence process before an on-air deal is completed. Shark Tank Blog follow ups help you keep track of the companies that end up successful and the ones that don't complete their deal.
Thank you for reading SharkTankBlog, the number one site for Entrepreneurs, Investors and Fans. Our content updates multiple times day, giving you the latest information on Episode 1417, Season 14, and all other seasons and episodes.
Episode 1417 Press Release
SHARK TANK: "Episode 1417"

Entrepreneurs come into the Tank eager to secure a deal with a Shark. This episode features pitches including a nutrient-rich energy bar, a gender-neutral clothing brand, a portable children's toy and a healthy Mexican snack company.
First into the Tank is an entrepreneur from Longmont, Colorado, who created a gourmet and all-natural energy snack inspired by love. Entrepreneurs from San Diego, California, present their revolutionary clothing line seeking a fit for every body type and shape; while an entrepreneur from Cleveland, Ohio, is on a mission to create quality play on the go for children and less mess at home with her product. Last into the Tank is an entrepreneur from Tiburon, California, who presents his handcrafted Mexican food brand inspired by his generations-old family recipe. In a "Shark Tank" update, husband and wife Nina and Sina Farzin from Potomac, Maryland, update us on their baby care brand Oogiebear, who have secured over $1.6 million in sales after partnering with investor Barbara Corcoran.
The Sharks in this episode are Mark Cuban, Barbara Corcoran, Daymond John, Lori Greiner and Kevin O'Leary.