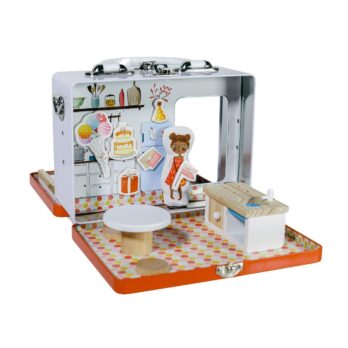 Kayla Lupean got the idea for Play Maysie Dollhouses on Christmas Day, 2020 when she saw her daughter playing with her dollhouse. Kayla thought it would be a good idea to have a portable dollhouse. She looked at a suitcase and thought it would be cool to have a dollhouse in something like that. After Googling it, she found nothing and got to work. Kayla, a single divorcee, adopted her daughter in 2017. She used $25,000 in savings to start the business. She also raised $29,475 on Kickstarter in April, 2021.Since then, she's been on a roll and earned Parents.com's "Best Preschool Toy of 2022" award.
Play Maysie Dollhouses are metal. They're the size and shape of a lunch box and they fold open on both sides. Dolls and accessories have magnets so you can position them in the dollhouse. She didn't want to make them out of plastic and the original "prototype" was actuall a metal candy tin that opened on both sides. There are three sets: the Cozy Case, featuring a bedroom and bathroom, the Home Case, featuring a  kitchen and living room, and the Wild Case, featuring fishing and camping scenery.
Play Maysie Dollhouses cost $48 and a set of four dolls is $32. Kids love the portability and parents love that it fosters creative play anywhere while reducing screen time. Lupean's "Portable World of Play" gives back too. For every three dollhouses sold, she donates one to a child in the foster care system. So far, the dollhouses are only available on her website and her storefront in a Cleveland mall. She likely wants to get into big box toy retailers.
My Take on Play Maysie Dollhouses
As a father of four daughters, we had a few dollhouses kicking around over the years. My girls were into American Girl Dolls too. I'm sure if this had been around when they were kids, grammy and grampy would have made sure each girl had one. They spoiled my kids rotten!
This is a cute idea and a great story. Kayla was a photographer before the Covid-19 pandemic and her business evaporated overnight. She took a big gamble emptying her savings account and it looks like it's paying off. That took guts. I hope she lands a Shark.
Do Sharks Like Dolls?
Kevin has a lot of contacts in the toy business, so expect a royalty offer from him. Barbara has a lot of neices and nephews so she'll identify with the creative play aspect of this product. I don't think Daymond or Mark go for it, but Lori could – I think it would sell on QVC. I expect a couple of offers and I hope Kayla scores a deal.