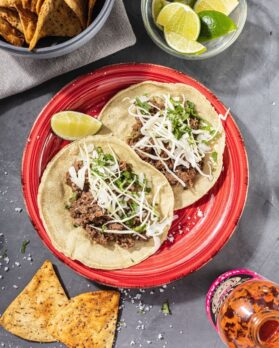 When Hector Salvidar first started Tia Lupita Foods, he just sold hot sauce. He got the recipe from his mother and his friends wanted him to make it for them. In the beginning, he thought he'd be just selling hot sauce to small retailers out of his trunk. He used his experience in the food industry with Nestle, Diamond Foods and a small Mexican Food start-up to get the ball rolling. Since selling his first bottles back in early 2018, he has his products in over 5000 stores nationwide.
He's added to the Tia Lupita line, too. He sells tortillas and chips made from nopales, the prickly pear cactus. This is the third product this season that incorporates nopales as an ingredients. He also sells salsa. The inspiration for the company name and its logo is Hector's mother. She always put her hair in a bun when cooking and her name is Lupita.
Mexican food has surpassed Italian food as the most popular ethnic food option in the USA, which has undoubtedly helped Hector's growth. In May, 2022, he cashed out $85,950 from a successful WeFunder campaign to help fuel his rapid growth. With internationally-inspired food brands growing more than two times other brands, he'd like a Shark to help take Tia Lupita to the next level.
My Take on Tia Lupita
I love Mexican food. We eat a fair amount of tacos and always have salsa and chips on hand. I buy low carb, gluten free cauliflower chips, but I'd love to try the noplaes chips and tortillas. As for hot sauces, I tend to like things mild, so I'm not sure about them, but I'm all in on the nopales!
Do Sharks Like This Sauce?
I'm not sure Hector does a deal here. I really don't think he needs one: he's had plenty of success on his own. While Mark has invested in a lot of healthy food products, I think he'll pass on this. I have a feeling the valuation will be what sends Hector packing without a deal.