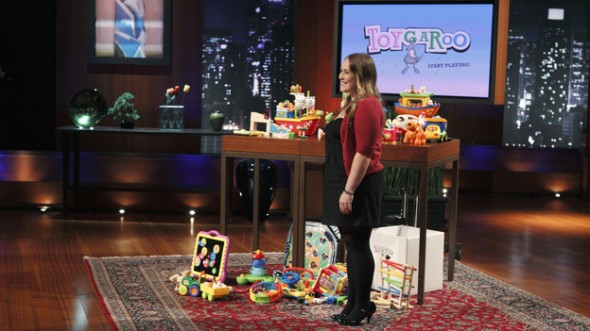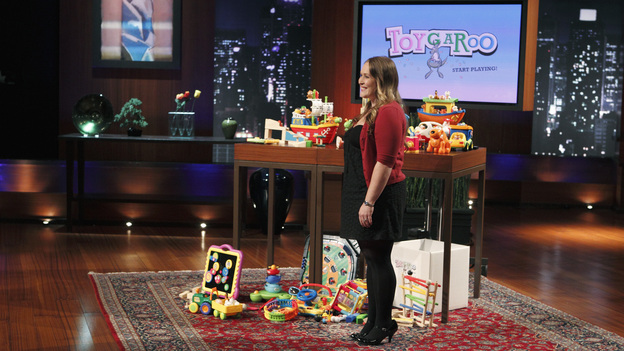 Nikki Pope brings her business, ToyGaroo, to episode 202  of the Shark Tank, hoping to interest the Sharks in a unique business model; a sort of Netflix for toys. All parents know the feeling of walking into the kids' playroom or bedroom and being overwhelmed by the sheer amount of stuff. The ToyGaroo program would allow thrifty parents to "rent" toys by mail order, sending them back when their child has outgrown or gotten tired of a particular toy. In this way, the kids get to play with all the latest toys, without their parents having to spend a fortune on purchasing toys that will soon collect dust in a closet or bin.
Will the Sharks find Pope's idea brilliant, or will the toy rental idea fizzle before it gets off the ground?
ToyGaroo Shark Tank Recap
Pope asks the Sharks for $100,000 for 10% of the ToyGaroo company. She explains her business model: parents sign up on the website and pay a monthly fee of between $35 and $89. The family creates a wish list of toys, which are sent to them in a scheduled rotation. When the children tire of or outgrow a toy, it is sent back in the provided, postage-paid box. The toys are then thoroughly sanitized, shrink-wrapped for cleanliness, and sent out to the next family.
The Sharks are understandably skeptical, but Pope explains that the cost of her service is around $500 per year, while the average family spends $1,200-1,400 a year on toys. Her service not only reduces toy clutter in family's homes, it saves families money.
Pope needs the investment to grow her business. Her initial launch included 500 families. Through word of mouth, she's built up a list of over 1,000 families on a waiting list to join the program. With an investment, Pope will be able to grow the company into a successful business. But will the Sharks bite on her business model, or will they toss this fish back?
Kevin O'Leary believes the business is overvalued with Pope's numbers, but he's willing to work with her on numbers, until he discovers that she, personally, owns only 10% of the business, with her husband and other partners owning the rest. It's a deal breaker for Daymond John. He's out.
O'Leary makes an offer. He's willing to offer $100,000 for 35%. Before she can accept, Robert Herjavec speaks up. He asks Mark Cuban to go in with him. The two of them offer $200,000 for 40%.
With the new offer on the table, Barbara Corcoran says she was going to offer a lot less, and she's out. O'Leary says "Those toys are my friends. I speak toy." Pope is facing a decision. O'Leary's toy experience, or the higher offer and two partners. O'Leary is clearly torn. He doesn't want to offer more money for the percentage.
Mark Cuban and Robert Herjavec shamelessly promote their internet expertise. O'Leary offers to partner with Cuban, on the $200,000 for 40%, cutting Herjavec out of the deal. Pope accepts.
ToyGaroo Shark Tank Update
Although the Sharks were confident in the business model, ToyGaroo went out of business less than a year after the episode aired. So, what happened to ToyGaroo? From various interviews and analysis, it appears that the business simply grew too quickly. Poor management resulted from a case of "too many cooks" spoiling the broth. With multiple partners involved in the business, it was difficult for the entrepreneurs to form a coherent strategy. With partners pulling in too many directions, the business wore thin, and filed for bankruptcy. The Sharks swam away empty on this deal. They tell the story in Beyond the Tank episode 203.
Posts about Toygaroo on Shark Tank Blog
Toygaroo Bankruptcy Update from Former CTO