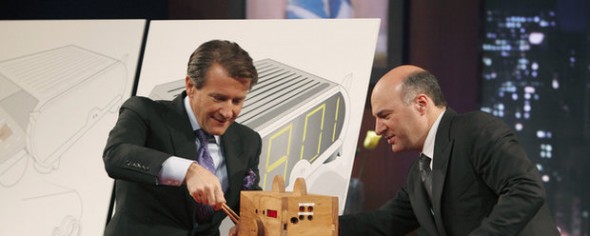 Episode 202 – originally airing on 3/24/11 – features the return of Mark Cuban in the "guest Shark" role and offers up 4 new businesses seeking investments from the wealthy Shark panel. Nikki Pope pitches Toygaroo, "the Netflix of toys," in hopes of getting a Shark to help the business grow. Matty Sallin hopes the Sharks "rise and swine" when he introduces Wake n Bacon, and alarm clock that cooks bacon. Brian Spencer jumps into the Shark Tank with his Vurtego Pogo Sticks, a super-charged version of the classic kid's toy. Joe Moore seeks a partner for First Defense Nasal Screens, miniature screens inserted in the nasal passages to block dust and allergens.
Which business gets help from a Shark?
Success stories are usually shown every week, but Shark Tank Episode 202 does NOT have an update segment.
There are 9 Shark Tank Episodes for Season 2. If you would like to appear on the show, check out our Auditions and Casting information.
Episode 202 – The Shark Investors and Entrepreneurs
The Shark Tank Episode 202 entrepreneurs make their best pitch to the panel of five Sharks who invest their own money if they like a business. The Shark Investors negotiate on the spot without any previous information, which differs from normal negotiations with investors.
Companies pitching the Shark Investors must go through a rigorous due diligence process before the deal made on the air is completed. Shark Tank Blog follow ups help you keep track of the companies that end up successful and the ones that don't complete their deal.
Thank you for reading Shark Tank Blog, the number one site for Entrepreneurs, Investors and Fans. Our content is updated multiple times day, giving you the latest information on Episode 202, Season 2 and all other seasons and episodes.