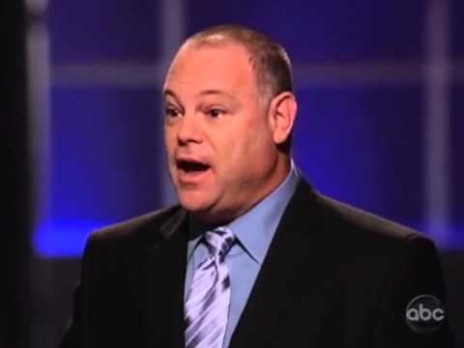 Jeff Cohen entered the Shark Tank during episode 105, bringing a snack with a twist: his Granola Gourmet snack bars are designed not to cause a blood sugar spike in diabetics who eat them. Cohen's wife and two sons helped him come up with the formula for his snack bars. Cohen himself had been a diabetic for 15 years when he invented his snack bars.
Cohen already had some success and got his foot in the door with a major super market. There's one problem. Cohen suffered a personal bankruptcy when a software company he was heavily involved with failed. The financial failure makes him a pariah to lending institutions, but will the Sharks overlook his past failure and fund his future?
Granola Gourmet Shark Tank Recap
Cohen enters the Shark Tank  looking for a $175,000 investment, in return for 25% of his company. He passes out samples of his granola bars for the Sharks to nibble on while he explains the process he and his family went through to create the product. He earns laughs when he reports that his wife gave him "the greatest compliment", when she said the fruit-flavored bars are "ok."
The Sharks agree that the bars are tasty. Cohen goes on to explain that he's been able to get in to 90% of the Whole Foods in the Southern California, 24 stores, with sales of $8,000-10,000 a month. Robert Herjavec likes that Granola Gourmet is in Whole Foods, but he wants to know why Cohen hasn't pushed the product to the national level with Whole Foods to expand the business. Cohen explains that cash flow has been a challenge, and reveals his past bankruptcy.
Kevin O'Leary doubts the business is worth the $700,000 valuation implied by the $175,000 investment request. Kevin Harrington calls Granola Gourmet a "me too" business, and drops out. Daymond John reveals he didn't enjoy the granola bars, and he's out. Barbara Corcoran doesn't believe Cohen can get more capital in the future, making him a poor investment risk. Kevin O'Leary agrees, and calls Cohen radioactive due to his bankruptcy. He's out. Robert Herjavec explains that Cohen's lack of focus on expansion of his Whole Foods deal concerns him. The final Shark turns Cohen down, and he leaves the Shark Tank without a deal.
Granola Gourmet Shark Tank Update
Cohen might have walked out of the Shark Tank without a partner, but he didn't give up.  He went on to find other investors, and the company continued to grow. Today, Granola Gourmet's distribution network includes over 600 retail stores nationwide. Of his experience, Cohen says; "Not receiving the investment from the Sharks in 2009 only made us work harder to build the company's foundation and bring in our own investors."
The company persevered and, despite not getting a deal the first time, got an update segment in season two, episode 202.
Kevin O'Leary may have thought Cohen was "radioactive" because of a bankruptcy, but his success suggests that the set back, like a blast of gamma in a superhero movie, imbibed Cohen with the personal power he needed to become a success. Today, Granola Gourmet is available nationwide, from retailers like Safeway, Vons, Whole Foods Market and Amazon.com.
At some point after 2016, things came apart for this business. While Cohen still lists the business as open on his LinkedIn page in July, 2021, the website is a gibberish mess and the company social media is dark since 2013. They are nowhere to be found online and in stores either.
Posts About Granola Gourmet on Shark Tank Blog
Granola Gourmet Shark Tank Pitch
Granola Gourmet Company Information