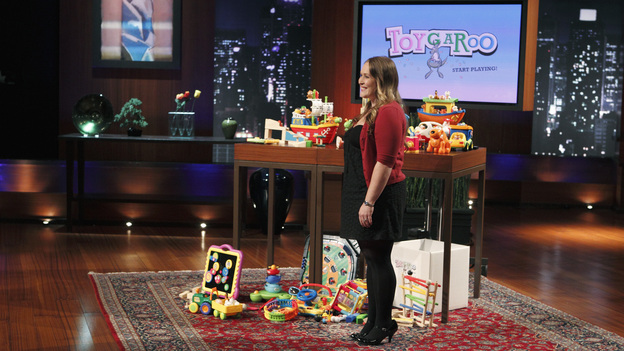 Toygaroo got a lot of buzz after being funded in season two of the Shark Tank. Last week, the episode featuring Toygaroo was repeated on Saturday night, so there was increased interest in the company here on the SharkTankBlog. While researching for a follow-up post, I came across some puzzling things.
I noticed Toygaroo's Facebook, Twitter, and Linked In profiles had been removed. I also noticed the company was not accepting new customers on its website "due to the explosive growth we experienced these last few months." I noticed some complaints online and I received some complaints in the comments of this follow up post on Toygaroo.
Upon further investigation (and thanks to one of our readers),  I found the personal blog of Mr. Phil Smy, the CTO of Toygaroo. In a post titled "Choose your partners carefully," Mr. Smy says:
"When I say choose your partners carefully I am talking about in business. I think it is maybe more important in business than in your personal life! Rarely in your personal life is there a contract to think about."

This does not sound like a CTO that is happy with the direction the company is going. The post was written in October of 2011, so trouble has been afoot at Toygaroo for some time now. I wonder who he was talking about. Was it Mark Cuban, or Kevin O'Leary, who teamed up to invest $200,000 for 35% of  the company? Was it founder Nikki Pope or her husband? Was it someone else? Clearly Mr. Smy was disturbed about someone or something. He politely declined an interview, saying "at the moment, it would be imprudent for me to say much but I'd be willing to chat in a few weeks though."
I communicated with Mr. Smy yesterday (April 2, 2012). Today, the news of Toygaroo's Chapter 7 Bankruptcy filing hit my inbox.  Toygaroo filed for Chapter 7 Bankruptcy on April 2, 2012. The creditors listed in the case are Federal Express and Uline, a shipping and packaging products company. It would appear that Toygaroo wasn't paying for its shipping costs; no wonder they were able to offer free shipping.
The meeting of creditors is scheduled for May 7, 2012 in Los Angeles at the California Central Bankruptcy Court.
When we watch Shark Tank, we think it will be all wine and roses for the entrepreneurs who get funded. Surely partnering with one of the Sharks should guarantee success, right?  According to the Small Business Administration, 80% of businesses fail in their first three years. There are many reasons why, but surely not being able to pay the bills is on the list of causes. Partnering with the Sharks may or may not change those odds, but a precursory look at all the businesses that have appeared on the Shark Tank would appear to fly in the face of that statistic. Much more than 80% of the businesses featured on the show, funded or not, are still in business. The percentages are higher for funded entrepreneurs.
Perhaps the success of Shark Tank entrepreneurs has something to do with the drive and passion of the business people who appear on the show. After all, to risk humiliation on national TV to better a business indicates a level of dedication many entrepreneurs may not possess, so maybe the mental make up of folks who'd voluntarily swim with the Sharks makes them more likely to succeed. It is still no guarantee, even with a billionaire shark in your corner.
I am interested to see how this plays out. Mr. Smy's cryptic blog post makes some accusations without naming names. I wonder if he's talking about one of the Sharks. If he is, it will change the way a lot of people view them and it could make for some rather unpleasant negotiations in the future. I will continue to follow this story to see how it all plays out.
No matter what, it will make for great TV- and blogging.