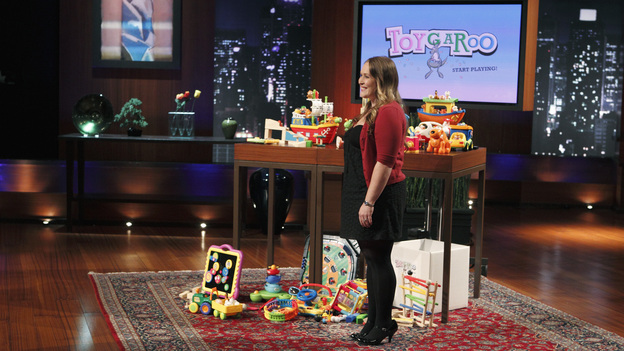 Nikki Pope, Toygaroo founder, appeared on Shark Tank in Season 2. Pope billed Toygaroo as "the Netflix for toys." Basically, for a monthly fee, Toygaroo will send new (to you) toys for your child to play with; if your kid really likes a toy, you can opt to purchase it at a discounted price. Their most popular plan sends six different toys over a period of two months for $32.99. Once your child is done with a particular toy, you simply put it in the included shipping box and send it back to Toygaroo; they will then send off the next toy on your check list.
Mark Cuban and Kevin O'Leary invested $200,000 for 35% of  the company, and the deal went through. The company is still open for business, but there are a few things that are concerning. One is their social media profiles have disappeared- no Facebook, no Twitter, no Linked In. Maybe they just felt they had enough buzz online that they didn't need them or maybe they just couldn't manage them any more. There have also been a few complaints about customer service lately, but you have to dig deep to find them online.
One recurring objection to Toygaroo is the "Ick Factor" associated with toddlers playing with used toys. Toddlers put stuff in their mouths and the potential for germs being transferred has some folks a bit grossed out. According to the Toygaroo website, all toys are cleaned and sanitized before being shipped. Toygaroo's sanitization  process got goofed on during  "Saturday Night Live's 'Weekend Update with Seth Meyers'" December 10, 2011. Meyers said,  "A new website has launched called 'Toygaroo,' which is a Netflix style system that allows parents to rent toys for their children and send them back for new ones. It's all part of an effort to make the movie 'Contagion' come true."  This must have driven a ton of traffic to their website!
While the "Ick Factor" may be a problem for some, many parents love the service and the money it saves. As a parent of five with enough injection molded plastic toys to build a space shuttle, I can see the value of this service. Toygaroo didn't exist when a majority of my kids were toddlers, but I wish it had. While my seven year old enjoys the mountains of toys from her older siblings, her toy intake continues to this day (my wife and I don't buy her toys for presents anymore- we give her other kinds of gifts).
Toygaroo got some good investors on the Shark Tank and appears to continue to provide value to parents. If any readers have had experience with Toygaroo, we'd love to hear about it in the comments!