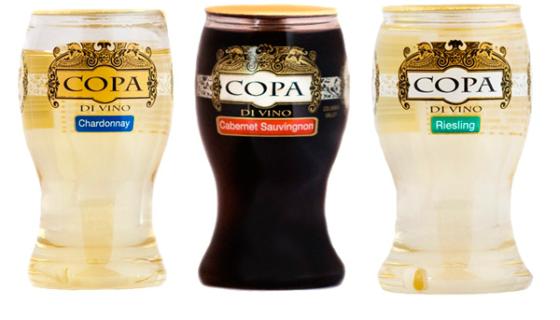 Copadivino makes Shark Tank history as the first company to pitch for a second time on the Shark Tank. While many entrepreneurs have been on the show twice with their original segment and a follow up, this is the first time an entrepreneur who has walked away from a deal with the Sharks returns for a second pitch.
Copadivino is a single serving glass of wine filled with vino from Martin's Oregon based winery. He originally saw single serving wine while vacationing in Europe and partnered up with Pascal Carvin, the guy who created the packaging.
Copadivino entrepreneur James Martin was originally in the Shark Tank in season two (original air date March 20, 2011). Every Shark went out except Kevin O'Leary. To be fair, Daymond John liked the idea but thought it was "too early in the game to invest." Kevin wanted to capitalize on the proprietary packaging and offered $600K for 51% of the patent. Martin thought O'Leary was undervaluing his company and walked away from the deal.
Just about a year later, Mr. Martin and Copadivino return to the Shark Tank. This is new ground. The ABC promotional materials claims Martin calls Jim Koch, co-founder of Samuel Adams beer, during his segment. This marks the second time this season an entrepreneur in the Shark Tank phones a well known, successful business person during the show. While Scott Jordan's call to Steve Wozniak resulted in an epic episode, I am left wondering what Mr. Koch will bring to the negotiations in this deal.
Mark Cuban, an avowed beer drinker, seems like he would not want to be involved in the third wine related business this season. Maybe Cuban, who was a "guest shark" during Copadivino's first pitch, will recognize the product's appeal as a concession product this time around. Whether Kevin O'Leary wants back in will depend on Martin's willingness to split the company into separate units- one to license the packaging and one to "bottle" his own wine. If Copadivino is willing to license the patent, all the sharks may be competing to get a taste of this deal.