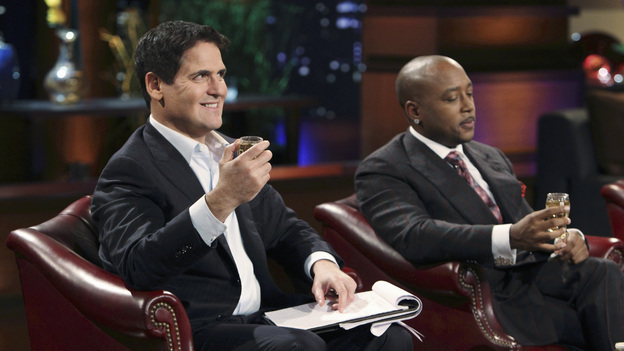 Shark Tank on Friday April 6 features a re-run of a show originally aired on March 20, 2011. The Sharks in "Episode 205" are Barbara Corcoran, Mark Cuban, Robert Herjavec, Daymond John and Kevin O'Leary; Cuban was actually a "guest shark" for this episode.
This re-run features the original air date for Copadivino, who will make Shark Tank history by being the first entrepreneur to re-appear for a second pitch on Friday, April 13, 2012. In this appearance, entrepreneur James Martin walked away from a deal with Kevin O'Leary, who offered $600K for 51% of the business. Mr. Martin didn't like the offer, so he was out.
Wurkin Stiffs made history on this show too. Entrepreneur Jonathon Boos cut a deal with Daymond John and Barbara Corcoran, after Daymond said he was out. Daymond came back in at Barbara's insistance, but Daymond didn't want to have to deal with Jonathon. Daymond wanted Jonathan's wife to be company president- just so he wouldn't have to talk to Jonathon! This is one of the funnier segments of Shark Tank.
Tippi Toes Dance Company is a kids dance studio run by the team of  Megan Reilly and Sarah Nuse. What impressed the Sharks was the success of their fledgling franchising operation and the fact they collect interest on loans to franchisees. Kevin O'Leary wanted to buy into Tippie Toes, but Mark Cuban, with a Shark -like move, did the deal for $100,000 for 30% of the business while simultaneously shutting out Barbara Corcoran.
CBS Foods, short for "Chef Big Shake," brought some shrimp in to feed the Sharks- in the form of Original Shrimp Burgers. Chef Shawn Davis was looking to get $200K for 25% of his company. While all the Sharks except Barbara liked the burgers, they didn't like the business. Daymond and Robert thought the company was overvalued, Barbara doesn't like shrimp, Kevin has been burned in the seafood business before, and Mark just didn't know enough about the food business. All the Sharks were out, but well fed.
The follow up segment is for Classroom Jams, a company that sets learning materials to music to make it more fun for kids to learn. Founder Marc Furigay had all the Sharks duking it out to be involved with his company that brings "School House Rock" into the 21st century.
Enjoy the show, next week is a NEW EPISODE!