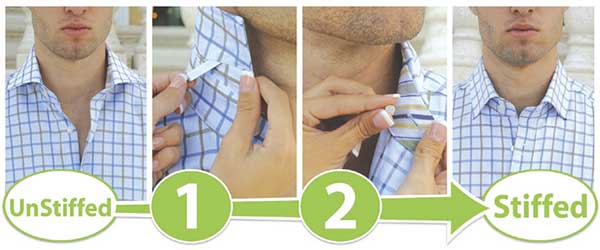 Wurkin Stiffs founder, Jonathan Boos brings magnetic collar stays into the Shark Tank. He made his pitch one of the most entertaining in all the history of the show.
Company: Wurkin Stiffs
Entrepreneur: Jonathan Boos
Product or Service: Magnetic Collar Stays
Website: http://www.wurkinstiffs.com/
Twitter ID: @WurkinStiffs
Wurkin Stiffs Request:
Capital Funding Request: $85,000
Equity Offer: 10%
 Result:
Deal or No Deal: Deal
Investor: Barbara Corcoran, Daymond John
Amount: 100K
Equity: 40%
After The Show:
Würkin Stiffs founder, Jonathan Boos last report was that he continued to negotiate the deal with Barbara Corcoran and Daymond John even after having Mark Cuban tell him that Daymond John was the right Investor to take his deal to the top.
Würkin Stiffs appears to have expanded the product line to include not only Collar Stays but Wooden iPhone and iPad cases (Very Cool), Wallets and other items.
According to Jonathan Boos, the Würkin Stiffs received an overhaul and looks great. Check out the "About Us" page and you'll find some great humor from a guy that really rattled Daymond John on the show when he called him out and even argued with him without trying. Daymond even requested that Jonathan Boos make his wife President of the company so he wouldn't have to talk to him.
We will be reaching out to Jonathan Boos to see if we can get him to give us even more updates and see if the deal really did close, or is he going it on his own.
Jonathan Boos is flat-out entertaining and engaging, even posting in the comments sections of many blogs. Even thought he's out there, he's calculated and looks like a pretty smart guy. Who knows, maybe he was on the show for promotional value only, I doubt that, but the show has obviously helped Wurkin Stiffs grow.
I'm confident that Würkin Stiffs will be coming out with iPhone 5 cases when the new phone is released in June. I will likely be purchasing one of his cases when that date comes.
Overall, I give Würkin Stiffs a thumbs up and like the products he makes. Stay tuned for more updates as we get them.