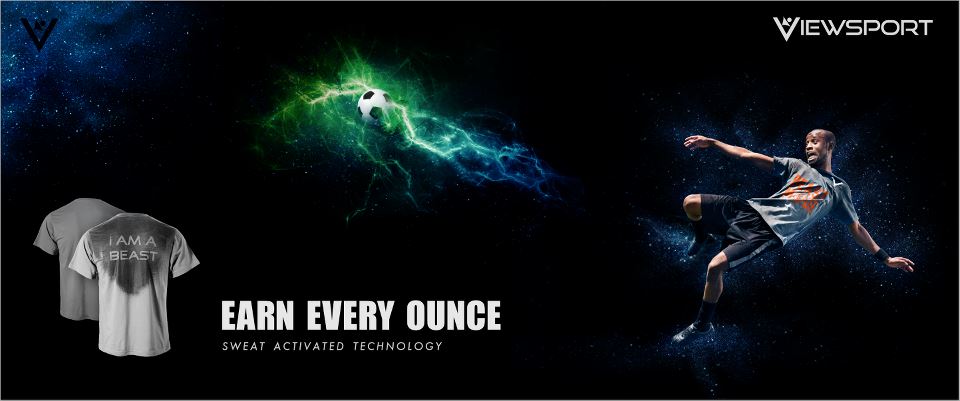 Viewsport is the latest apparel related business to jump into the Shark Tank. We have seen "technology enabled clothing" on the Shark Tank and now Viewsport brings us "Sweat Activated Technology."
Created in 2009 by Ben Wood, chemist and Head Coach, Viewsport sells a line of  tee shirts, tank tops, shorts and sweats that display an image on the garment when it is "sufficiently soaked with your body's energy droplets (sweat)." Otherwise blank areas on the various workout wear display an image or saying when the garments get all sweaty. The idea is to get a visual indication of how hard someone is working out.
Athletic apparel did over $28.17 billion in sales just two years ago; that's a pretty big, albeit crowded, market. The concept of sweat induced designs is unique, and I think hard core exercise buffs would like the novelty. The question is, will the Sharks?
Any time a clothing related entrepreneur comes into the Shark Tank, all eyes fall on Daymond John. He has the connections for any Shark Tank entrepreneur who wants to sell clothes. Whether this deal will heat Daymond up or leave him in a cold sweat remains to be seen.
I would think licensing would be a big part of this pitch. Any licensed image could be put into the Sweat Activated Technology to reveal a licensed image or slogan when the sweat starts flowing. That might lure Mark Cuban into the discussion (he and Daymond have teamed up in the past) as he could certainly give instant inroads into NBA licensing. NBA players might dig this product too- they sweat a lot.
Kevin O'Leary, the guy who wants everything made in China, might not like Viewsport's commitment to use US goods and services. While it may win the company many fans, it could sour the Sharks if manufacturing in the USA drastically affects the bottom line.
This deal is one of those deals that is going to come down to the entrepreneurs. If they are committed and the Sharks like them, as long as their numbers work out, I think they have a shot at getting funded.