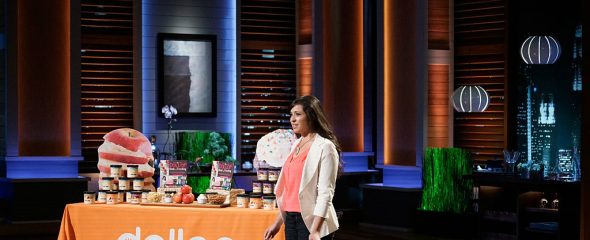 Nationally renowned frosting badass, Heather Saffer, pitches Dollop Gourmet, her line of  all natural, non-GMO, dairy-free & "mostly" organic frosting in Shark Tank episode 729. Heather rose to fame when she won first prize in Season 4 of the Food Network's Cupcake Wars. She used the prize money to write a cupcake cookbook and to start herself on the road to frosting magnate.
Saffer, who holds a psychology degree from The College at Brockport in Clarkson, NY, is a life-long lover of sweets and cupcakes. She began experimenting with frosting as a child when one of her mom's co-workers sent her some frosting for the cookies she loved to bake (and burn) on a regular basis. After struggling with eating disorders, she developed frosting recipes that weren't as caloric as the traditional butter and sugar varieties.
After a failed attempt at capitalizing on the cupcake craze in 2008 with a cupcake catering company, she opened  Dollop Gourmet Cupcake Creations in Rochester, NY and set her sights on Cupcake Wars. Her victory there ultimately led to closing the shop and focusing on Dollop Gourmet. By 2015, she had the products in three regions of Whole Foods Markets.
She likely wants a Shark to help her expand her retail grocery footprint. Will a Shark get a sweet tooth over this business and invest?
Dollop Gourmet Tank Recap
Heather comes into the Tank looking for an investment of $75,000 in return for 20% of her company. She hands out samples of her frosting; cupcakes with several samples of her flavors. Mark Cuban exclaims that he's a "frosting freak." The Sharks are impressed with the flavors: Vanilla, Peanut Butter Cookie Dough, Sea salted Caramel, and Hot Chocolate.
Kevin O'Leary gets down to business. He wants to know how Dollop Gourmet's frostings are being sold. The frosting line was launched in all 85 Wegmans locations, 215 Meijer stores. She plans to launch into Whole Foods and other retail locations in coming months.
Heather shares her story, of her first bakery which failed, and her second business, which succeeded and led to her win on Cupcake Wars. Lori Greiner commented that she remembers her from the show. Sales were $170,000 in the year the show was taped, with projected sales of $200,000 for the year. With a 40% margin, she's making a reasonable profit, but the product sells for $6.99 retail. The retail price may be a challenge for the Sharks.
The Sharks are ready to make their decisions. Robert Herjavec is one of the few people on earth who "doesn't like frosting." He has no passion for the product, and so he goes out, deferring to his sweet-toothed peers.
Kevin O'Leary suggests that Dollop Gourmet could be a good foil for his brand, Wicked Good Cupcakes. He points out that he has the existing infrastructure to help build the brand. He's willing to offer $75,000 in return for 33 1/3%. Barbara points out that he's asking her to accept a 3rd partner sight unseen.
Barbara makes an offer, including Lori Greiner in her deal. She'd like to offer $75,000 for 30%, mentioning her interest in, and success with, Daisy Cakes. Lori, however, isn't interested in joining Barbara. She doesn't see it as a QVC item.
Mark Cuban says he'd get too fat if he sold Dollop Gourmet. He goes out.
Barbara is willing to offer the same deal without Lori. She and Kevin begins sparring, competing for the deal.
Heather asks if Barbara would go down to 25% equity. Barbara agrees, and Heather walks out of the Shark Tank with a deal. Barbara celebrates by crying triumphantly; "Screw you, Mr. Wonderful!"
RESULT: DEAL with Barbara for $75K for 25%
Dollop Gourmet Shark Tank Update
The Shark Tank Blog constantly provides updates and follow-ups about entrepreneurs who have appeared on the Shark Tank TV show. Once an episode has aired, we monitor the progress of the businesses featured, whether they receive funding or not and report on their progress.
The deal with Barbara never closed but the famed Shark Tank effect launched Dollop Gourmet far past the projected sales for the year. With her early success, there's speculation that the company may grow to acquisition size within 3-4 years.
The newfound success is a big step up for Heather, who went from battling anorexia and losing her life savings in her first business venture, to selling one of the fastest-growing brands of gourmet frosting on the market today. Her products can be found in Wegmans, HEB, Meijer, Whole Foods, Metropolitan Market, Town & Country Markets, De Cicco Family Markets, and Nooch Vegan Market, as well as on her website, Amazon, and other online retailers.
In June, 2019, the company was acquired by international frosting maker Mimac – a Canadian company. Heather is still the "face of the business." In April, 2021, she's developing a pet inspired clothing line called Heather and Donald. Her cookbook is still available on Amazon.
Posts About Dollop Gourmet on Shark Tank Blog
Dollop Gourmet Company Information
Video