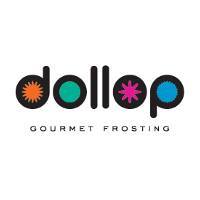 Heather Saffer, creator of Dollop Gourmet Frosting, is that person who always wanted that piece of cake with the extra frosting on it. After a lifetime of baking and making frosting, she opened several retail cupcake shops. She closed her retail spots shortly after she went on (and won) Cupcake Wars back in February of 2012 and decided to focus her culinary efforts on the cupcake component she was fondest of: the frosting.
Heather's obsession with baked goods and frosting had its dark side – she battled eating disorders and weight issues before adopting a healthier approach to eating. That approach led her to create lower calorie, all natural, non-GMO, dairy-free, and "mostly" organic frosting. Her first whack at the frosting game came when she used her Cupcake Wars prize money to write The Dollop Book of Frosting, a book that earned her the title of "frosting bad ass."
After the book was so well received, Heather ventured into making her own frosting line and Dollop Gourmet Frosting was born. The products are vegan, organic, and made in the USA. With flavors like Madagascar Vanilla, Salted Caramel, Peanut Butter Cookie Dough, and Hot Chocolate – all of which are gluten, dairy, and soy free, there's a Dollop Gourmet Frosting for everyone. She's got a strong presence on Amazon and she has products in a number of Whole Foods markets. At 13 bucks a jar, the stuff isn't cheap, but it's comparably priced to making frosting from scratch.
My Take on Dollop Gourmet Frosting
I have a sister-in-law who's a bit of a frosting bad ass herself. She makes a butter and cream cheese carrot cake frosting that is absolutely ridiculous. Making frosting is an art, and if Heather is as bad ass as my sister-in-law, she must make some delicious frosting.
I am that guy who always wants a corner piece of cake, or the piece with a flower. I love frosting. I remember making frosting from scratch with my Nana as a kid and I usually ate half the batch before she had a chance to frost the cake! I still, to this day, LOVE to eat frosting and I am dying to try Heather's. Her flavors sound scrumptious and they are lower in calories than traditional frosting. For that reason, I am IN!
Will Sharks be sweet on this business?
Heather has credibility in her space. Frosting is not a terribly competitive grocery item, so if she has solid sales numbers, the Sharks could bite. This will be one of those segments where the Sharks are "oohing and aahing" over their samples. If a food product tastes good and the numbers line up, it's usually a good combination.
If Heather comes off as professional and appears she has a plan for growth, expect an offer. Barbara would be a good fit as she has several grocery products in her Shark portfolio. Mr. Wonderful, a fan of woman-run businesses, might also bid as this business could have good synergy with Wicked Good Cupcakes. Whichever Shark bids, I think Heather leaves the Tank with a sweet deal.