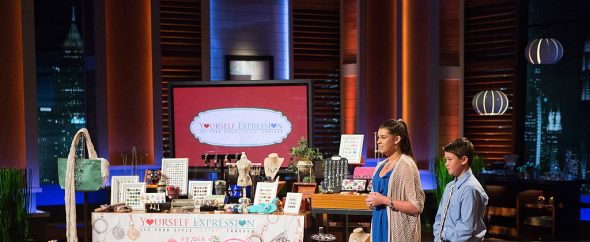 Shelby and Gordy Gogulski pitch their jewelry and accessory line, Yourself Expression, to the Sharks in episode 729. The business began in n December 2013 when Shelby's mom told the 14-year-old Shelby she couldn't have $200 for a pair of boots with a "cute bow on the back." Mom said, "you go earn the $200 yourself." Instead, Shelby and her little brother, Gordy, accessorized a pair of boots Shelby already owned. Together, they created what they called "boot bling" where they attached clips to her boots allowing her to change looks quickly and easily.
That little experiment led to creating their business, Yourself Expressions, a huge line of interchangeable jewelry, charms, and other fashion accessories that allow people to express themselves in their own unique way. In just 18 months, the brother/sister team has introduced over 2900 products with a focus on quality and affordability that offers something for everyone.
Shelby and Gordy have their products in over 200 stores as wholesalers and they have a local "showroom" to sell their products. After appearing on The View, they gained national exposure and interest in their products – which are also available on their website – skyrocketed. Shelby attends school two times a week and travels for her business 3 days a week – all while maintaining a solid GPA and playing soccer. Gordy works on the design phase of the business.
They want a Shark to help mentor them and get them in front of influencers in the souvenir industry. Will a Shark express interest in this business?
Yourself Expression Shark Tank Recap
Shelby and Gordy come to the Sharks seeking an investment of $50,000 in return for 20% of Yourself Expression. Ten year old Gordy introduces himself as his sister's "minion," gathering chuckles from the Sharks. The dynamic pair present their blank bases, which come in a variety of forms, like bracelets, belt buckles, and even flip-flops and hair accessories, and the charms which snap into the bases.
Kevin O'Leary wants to  know about sales. The pair have managed to capture a projected $365,000 in sales through 90 retail locations in the current year. The charms cost between $.30 and $1.00 to produce, and sell for $4. The bases cost between $1.20 and $4, and resell between $10 and $14. The projected profit for the year is $80,000. The kids hope to get a Shark to help them get character and sports licensing. They'd like to connect with cruise and sports souvenir sales.
Barbara Corcoran believes their charms are too diverse. She doesn't see the  business sustaining its current growth, and she's out. Kevin O'Leary agrees. He believes that their line is an "inventory management nightmare." He's out.
Robert Herjavec is impressed with the entrepreneurs' determination and presentation. Shelby breaks down, faced with the Sharks' rejection. Robert explains that the small footprint of the product is a benefit for retailers. He doesn't feel he is the right Shark for them. He's out.
Mark Cuban tells Shelby that he doesn't see this growing, and he believes that Shelby will "find bigger and better things to do." He feels that an investment will add too much pressure to the kids' lives.
Lori Greiner agrees with Mark. She says that adding a Shark to their business may complicate things. None of the Sharks share the licensing vision Shelby has for the charms. The pair leave the stage with no deal.
Yourself Expression Shark Tank Update
The Shark Tank Blog constantly provides updates and follow-ups about entrepreneurs who have appeared on the Shark Tank TV show. In spite of the setback on Shark Tank, Shelby and Gordy continue to grow and expand their business. They're offering opportunities to retail stores and independent sellers. As of November 2016, they added a kiosk in The Avenues mall in Jacksonville, Florida, for the holidays. The company continues to expand and grow, and may snap into success under the guidance of two talented young people who overcome every hurdle in their paths thus far, including Shark rejection.
In 2018, they re-branded the company to Gracie Roze. They continue to sell their jewelry in the Jacksonville location and in 400 shops on Norwegian and Carnival Cruise Lines. They dialed it back during the Covid-19 pandemic in 2020 and focused on online and retail sales via Facebook Live events. In 2021, Shelby sought treatment for an eating disorder and her dad suffered a heart attack. Despite these personal setbacks, the business carries on with $5 million in annual revenue as of April, 2023.
Posts About Yourself Expression on Shark Tank Blog
Yourself Expression Company Information
Video