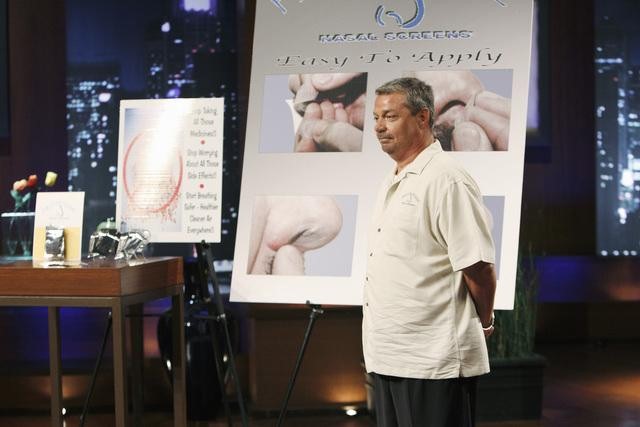 The Shark Tank can be a very scary place to be for an entrepreneur. Whether Joe Moore was afraid or not when he entered the Shark Tank, he left with a smile on his face and the satisfaction of knowing he got the biggest offer in Shark Tank history. Joe was seeking $500,000 for a 10% stake in his business, First Defense Nasal Screens.
At first glimpse, the Sharks thought this product was hokey.  If you are an allergy sufferer, you know First Defense Nasal Screens are no joke. The tiny filters are designed to be inserted into the nasal passages to filter out particles or germs that may be present in the air. Allergy sufferers, construction and landscape workers, and people who fly a lot and don't want to breath the contaminated "airplane air" are all potential users of the product. They don't replace respirators for potentially dangerous air, but they do almost as good of a job as a surgical mask, without the scary implications. Basically, First Defense Nasal Screens are air filters you stick up your nose.
Given that description, it's easy to see why Mark Cuban and the other Sharks thought Mr. Moore was joking. When they found out he'd already sold 1.7 million units at sixty cents a pop, they began to take him more seriously. Moore needed the $500,000 to fill a large order in the United Arab Emirates; the client had given him a six year, $8 million contract.
Despite sales statistics strong enough to please even Kevin O'Leary, Barbara Corcoran was out first. The rest of the Sharks began battling each other for a piece of the company. Robert Herjavec offers to buy the entire company for $4 million- a Shark Tank record dollar amount. Mr. Moore counters with $5 million and Robert goes out. The other three Sharks, who'd been tossing different offers around, end up teaming up on a deal for $750K for a 30% stake with a 10% perpetual royalty. Moore has only one final counter offer- Mavericks season tickets.
Things have gone well for the publicly traded First Defense Nasal Screens (FDNS). The distributorship deal with Precision Electro Mechanical, the United Arab Emirates company highlighted in the Shark Tank went through. First Defense Nasal Screens has distributors all over the USA and the world. The Sharks picked a good business to partner into: cleaner air everywhere.