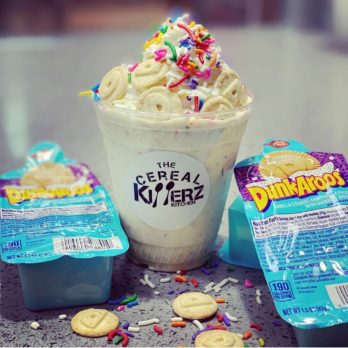 Christopher and Jessica Burns want the Sharks to bite on Cereal Killerz, their cereal based café, in Shark Tank episode 1203. Burns started the café in Las Vegas in June, 2018. Previously Burns was a worker for the city of Las Vegas. When he started thinking about starting a business, he thought of his favorite food: cereal. He's the type of guy who'll eat cereal for dinner.
The Cereal Killerz Kitchen is a throwback to childhood. They have over one hundred kinds of cereal and you can mix them up any way you want while watching Saturday morning cartoons. Other add ins include candy, cookies, and pop tarts. They also bake cereal into waffles, mix it into ice cream and milk shakes or pour specialty milk (chocolate, strawberry etc.) into the bowl.
The Cereal Killerz Kitchen was an instant hit in Las Vegas and a second location opened in August with at least two more over the next year, one of which will be on the Strip. Chris and Jessica's mission is "to create happiness one bowl at a time." While there may have been an impact on the business due to Covid-19, business is booming. The Burns' likely want a Shark to help fund their growth.
Company Information
Video

Posts about Cereal Killerz on Shark Tank Blog
Cereal Killerz Shark Tank Recap
Christopher and Jessica enter the Shark Tank in hockey goalie masks (a la Halloween) seeking $125,000 for 10% of their business. They explain the concept of their business "where every day is Saturday." Each Shark has 3 of their signature shakes on the table and they love them. They say their mall location won't survive so they are opening across the street from the mall. When queried about what they'll do to open a new location, they say they have $40-$50,000 for expansion. They're losing $8000 a month on the mall location.
Kevin thinks there is nothing proprietary about the business. Lori explains she did a deal with an oatmeal breakfast bar (Oatmeals), so she has a conflict; she's out. Robert thinks that opening in retail and creating a brand is difficult; he's out. Kevin thinks it's too early; he's out. Mark says you can't figure it out and he says they aren't ready for an investor; he urges them to get a lawyer or accountant to advise them. Daymond says he's getting emotionally tied to the deal, but it's not investable for him; he's out.
Cereal Killerz Shark Tank Update
The Shark Tank Blog constantly provides updates and follow-ups about entrepreneurs who have appeared on the Shark Tank TV show. The company closed their original mall location, but reopened in the Miracle Mile Mall at Planet Hollywood in April, 2021. They also have 2 other locations: one in the Centennial Hills section of Las Vegas and one in Goodyear, AZ. They are now soliciting franchisees as well. They plan to open more locations in Vegas in 2022. By July, 2022, there have been no new locations opened. As of July, 2022, they opened a fourth location in Henderson, Nevada. By January, 2023, they are offering franchises and they have annual revenue of $4 million.