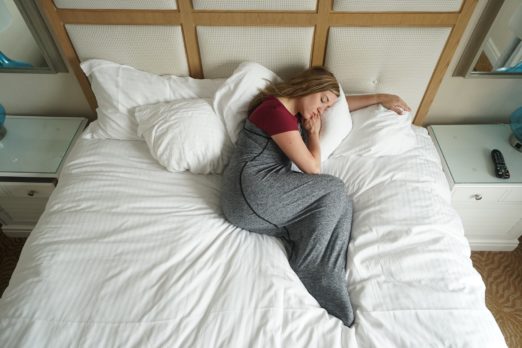 Matt and Angie Mundt hope to cozy up to a Shark with Hug Sleep, their sleep pods that swaddle adults like babies, in Shark Tank episode 1203. Matt started to have trouble sleeping in college. When he got out in the working world, it got worse. This made him cranky. He wanted a solution, so he did some research and came up with the Hug Sleep Pod.
What the HugSleep Pod does is it gives you a layer of pressure on your skin. It's not unlike the theory behind  weighted baby blankets. The pod is a sack made from 89% polyester and 11% lycra. When you slip inside it, it provides gentle pressure that helps you fall asleep. It's like slipping into a cocoon. It worked for Matt and his wife and he thinks it'll work for everyone.
The Pods come in three sizes: small medium and large, depending on your height and weight. You can bring a pillow inside to slip between your knees and it can be used with or without a blanket. When it's time for a wash, it doesn't need any special care, just throw it in with the regular wash. Each pod costs $89.99 and they  are available on Amazon. Matt and Angie probably want a Shark to help with production  and manufacturing. Will a Shark slip into this pod?
Company Information
Video

Posts about Hug Sleep on Shark Tank Blog
Hug Sleep Shark Tank Recap
Matt and Angie enter  seeking $150,000 for 10% of their business. Angie explains how compression can ease anxiety and that they want a Shark that can be passionate about helping people with anxiety and other mental health issues. The Sharks love the couples low customer acquisition costs and 41% profit margins.
Even though Robert took a fall and bloodied himself trying it out, all the Sharks make offers. Then Mark and Lori team up to offer $300,000 for 20%. Daymond, Robert and Kevin team up and make the same offer. After thinking it over for a minute, they go with Lori and Mark.
Hug Sleep Shark Tank Update
The Shark Tank Blog constantly provides updates and follow-ups about entrepreneurs who have appeared on the Shark Tank TV show. The deal with Lori and Mark closed. As often happens, in the aftermath of this episode airing, they were inundated with orders. They have an update segment in episode 1216 where we'll see how they coped with it. In the update, they say they had $4 million in  sales after airing on Shark Tank. In March, 2021, they introduced the Sleep Pod Move, a sleep pod you can slip your feet out of the bottom (Robert would have liked that). They added more new products: a hooded sleep pod and men's and women's loungewear. As of October, 2022, lifetime revenue is $15 million.