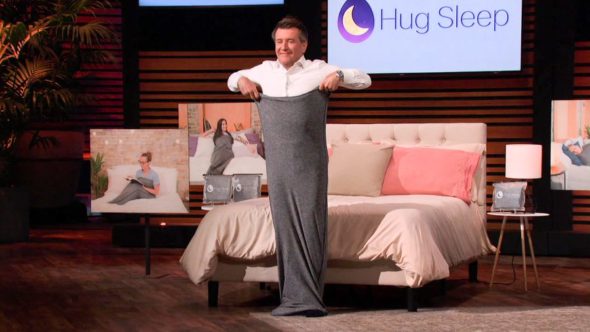 Matt and Angie Mundt hope to cuddle up to a Shark and get a deal for their Hug Sleep Pod in episode 1203. Matt invented the product because he was stressed out and not sleeping well. He found that gentle pressure – much like a weighted baby blanket – soothed him and made it easier for him to fall asleep. Initially, he made one for himself, then for friends and relatives. Angie encouraged him to start a business.
The theory behind the Hug Sleep Pod is Deep Touch Pressure Therapy. It's kind of like a sleeping bag but it's only the thickness of a sheet. The polyester and lycra fabric "hugs" you while you snuggle up and the gentle pressure from the fabric soothes you into a deep sleep. The company website encourages people to take a few nights to get used to it.
They come in three sizes, depending on the height and weight of the user. You can bring a pillow inside to put between your legs and the bottom opens so you can stick your feet out. You can use a blanket on a chilly night if you need to as well. They currently sell for $89.99 on Amazon. The Mundts likely want a Shark's help with manufacturing and distribution. Will a Shark find this a comforting investment?
My Take on the Hug Sleep Pod
I'm not sure how I feel about this. I go out like a light at bedtime, so I don't have a need for a product to help me fall asleep. I'm not sure if it even looks comfortable either. I tend to be a bit claustrophobic in my sleeping bag. This looks like your sleeping in a sausage casing, so I might not like it.
That said, my wife has problems falling asleep sometimes and she found this interesting. She said she'd like to try it out to see if it works. It maybe a stocking stuffer this Christmas!
Will Sharks Snuggle Up and Deal?
This pitch has the potential to be a disaster. In the promo video, Robert tries it out and wipes out while trying to get out of it. He ends up cutting his face and bleeding! That could scare the Sharks away due to liability issues. You can prbably bet the house that Robert won't invest!
As for the other Sharks, like I said above, I don't think they'll bid for the liability. I'm afraid the Mundts will be having nightmares about their Shark Tank appearance.