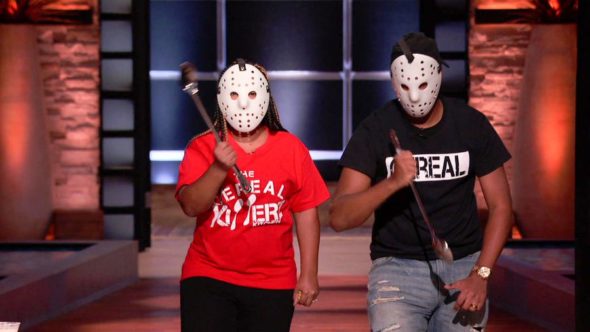 Christopher and Jessica Burns want a Shark to take a bite out of The Ceral Killerz Kitchen, their Las Vegas based cereal cafes, in Shark Tank episode 1203. Chris is a cereal freak. He and his daughter will eat it for dinner (if Jessica lets them). Chris was one of those kids who liked mixing different cereals together as a kid, much to the dismay of his mother.
Chris worked for the city of Las Vegas for twelve and a half years, but he always wanted to start his own business. While researching his options, he found out cereal bars or cafes were making money. Vegas didn't have one, so he figured he'd go all in. With over 100 brands of cereal, customers can mix and match cereal in a bowl with regular or specialty milks.
There's more than cereal at The Cereal Killerz Kitchen. They also cook cereal into waffles, sprinkle it on ice cream, mix it into milk shakes, or serve it in a waffle cone "taco." Chris annd Jessica have two locations today and have plans for two more, including one on the strip. They likely want a Shark's cash to help with their growth. Do Sharks like cereal?
My Take on The Cereal Killerz Kitchen
I totally get where Chris is coming from. As a kid, In loved to mix up my cereal. My mom was cool about buying different types on request. I remember my cousins visiting and saying we had good cereal. Some of my mix ups were: Life and Cinnamon Toast Crunch, Count Chocula and Franken Berry, Apple Jacks and Froot Loops and Cocoa Puffs and Lucky Charms. Those were the days!
I don't eat much cereal any more, but I am definitely going to check this place out the next time I am in Vegas. I'm not going in 2021 since CES and Affiliate Summit are virtual, but I hope to be back in 2022.
Will Sharks Bite on These Killerz?
I wonder which Shark bids on this. The fact that they are opening two new stores in the next year makes me think Chris and Jessica got a nice cash infusion. All the Sharks except Robert have restaurants in their portfolios. Since this is unique, it could spark some interest.
The only objection I see is this isn't proprietary. Anyone could go out and buy a bunch of cereal and start a business like this. It isn't as hard as opening up a burger joint. That said, I think they'll get a deal, I'm just not sure which Shark bites.