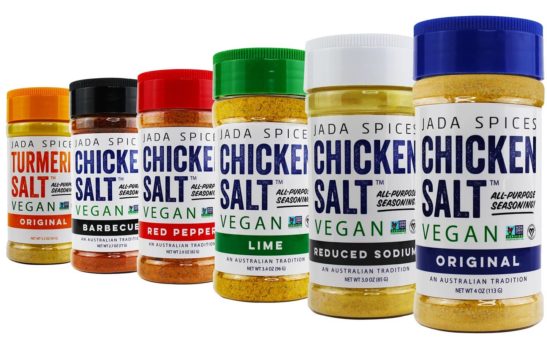 JADA Brands Chicken Salt is a remix of a product Khasha Touloei grew up with in Australia. Chicken Salt is as Australian as Vegemite and he claims it's on everyone's table in that country. When his mom sent some to him while he was studying medicine in America,he was delighted, but not for long. When he looked at the ingredients, he was horrified. It's made with dehydrated chicken fat, MSG and a lot of salt. As a practicing doctor, he couldn't fathom using it or recommending it to patients.
So Touloei decided to formulate his own line of spices made from healthy ingredients and JADA Brands was born. There's no nasty ingredients in JADA's Chicken Salt, just Sea Salt, Spices, Turmeric, Onion Powder, Garlic Powder and Calcium Stearate to prevent caking. There are six different flavors: Original, Lime, Barbeque, Turmeric, Reduced Sodium and Red Pepper.  They also sell a vegan Chicken Mix that you can use as a meat substitute.
They must be doing something right, Chicken Salt is the number one selling spice on Amazon. A jar will set you back $8.99, a five pack costs $29.99. While they are doing big business online, they'd like to get Chicken Salt into grocery stores. Touloei is hoping a Shark can help with that.
My Take on JADA Brands Chicken Salt
I actually tried this on a trip to Australia 16 years ago. I wanted to eat two things while I was there: Vegemite and "shrimp on the barbie." After being informed they referred to it as "prawns on the barbie," I noticed our hosts sprinkling Chicken Salt on their chips (what we call fries).
Of course I had to try it and it was very good. I hadn't really thought about it until I saw this company on Shark Tank. Since I like having a lot of spice options in my spice cupboard, I may pick some of this stuff up, I'm in.
Will Sharks Spice Things up and Invest?
Mark has been very active bidding on healthy food options the past few seasons, so he may have some interest if the valuation is good. Mr. Wonderful stays away from grocery store type items due to the shelf space issues these types of products present. Lori and Barbara also have food products in their Shark Tank portfolios. Daymond usually shies away from food items.
So who invests? I think Mark will make a play here and he might bring Barbara in with him. I also think Lori could make a play. The only way Mr. Wonderful bids is with one of his outrageous royalty deals. My money is on Mark.