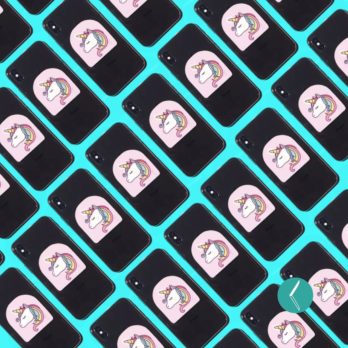 Flip Stik creator Akeem Shannon is a smart guy. He was studying Chemical Engineering, but lost his full scholarship after his junior year. While disappointed, he made a promise to himself they'd he'd be making more money than his classmates after they finished school. He got his inspiration for Flip Stik while talking to his uncle, a NASA Engineer.
His uncle told him about an adhesive the agency created in the seventies. It's super sticky, so Akeem decided to make a phone accessory out of it. He tweaked it a bit and got it patented, calling it Synthetic Setae. Then he put it into a smart phone kickstand and he had his product. The Flip Stik will let you stick your phone onto almost any surface. This is grest when using a phone for navigation in a car, for selfies or when you want a kickstand for your phone.
He thought it was such a good idea, he put it on Kickstarter and raised a little over $10,000 in 2018. He also won the 2019 CES Retail Pitch competition. A Flip Stik costs $15 and comes in a slew of patterns and colors. He's sold more than $100,000 since starting so he's hoping the Sharks will like his proof of concept. Will a Shark flip over this stik?
My Take on Flip Stik
In my younger days, I worked for a while as a pitchman. I'd get on stage and demo products and whip the crowd into a buying frenzy. It was kind of like doing a live infomercial. One of the products I pitched was Mr. Sticky, a reusable lint brush. This is the same adhesive as Akeem uses on his product.
I am sure it works well as I am familiar with its properties. He was smart to apply it to a phone accessory as people can't seem to get enough stuff for their phones. I like the idea of sticking the phone to the car dashboard while navigating. Here's a little secret: you occasionally have to to recharge the stickiness with warm water and dish soap (Dawn works best). I probably won't buy one, but I'll bet he sells out on show night.
Will The Sharks Flip?
Daymond made a speech in last week's show that he was there to help businesses struggling with Covid-19 this season. Akeem seems like the type of entrepreneur that Daymond would want to help out. Akeem is a hustler, had a product that appeals to a lot of people that is reasonably priced, and could definitely benefit from a Shark as a partner. I think Daymond will bid.
Akeem will also get a bid from Lori and Barbara for the same reasons. Lori would be a good partner because this easily demonstrated product is in her wheel house. Akeem is going to leave with a deal, it's only a matter of which Shark he chooses.