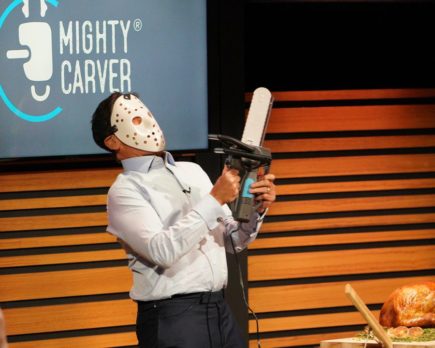 Kim Burney created the Mighty Carver in memory of her dad. She remembers her father and brothers using chainsaws at their family cabin in Montana. The brothers viewed this chore as a fun activity. Her dad always carved the Thanksgiving Turkey and after he passed away, nobody wanted the job. She said to her brothers "if that carving knife was a chainsaw, you'd be fighting over it.
In 2018, that simple remark made a lightbulb go off in her head. She was determined to invent an electric carving knife that looks like a chainsaw. That's how the Might Carver was born. Kim is a real work horse and designed, manufactured and brought the product to market quickly. A Shark Tank producer saw Kim and her husband Lance at a housewares show and asked them to swim in the Tank.
Kim may not need a Shark. She not only manufactured and patented the Mighty Carver, she managed to sell over $400,000 worth of product in 2019. Sales come through several channels. They sell on their own website and Amazon, plus they wholesale to Sharper Image, Ace Hardware and other online outlets. She and Lance likely want to expand their wholesale market or get some sort of licensing deal. Will a Shark want a cut of this business?
My Take on The Mighty Carver
I have an electric carving knife, but it isn't as cool as this one. Let's face it, this is a novelty item. It's fun, but it doesn't really solve a problem. That said, it's fun. Who wouldn't want to take a chainsaw to the Thanksgiving bird? The fact that she sold over 5000 units in her first year tells me there's a lot of people who want this.
It would make a great gift for the holidays, too. I struggle to find gifts for my parents every year because they have just about everything they could possibly want or need. A Mighty Carver may find its way under their tree this year. I'm in.
Will Sharks Cut a Deal?
I think this will be the fun pitch of the night. That's Mark Cuban in the hockey mask playing with the Mighty Carver. He could make a deal just because he thinks it's fun. Certainly all the Sharks will like Kim's hustle and her sales aren't bad either.
If licensing is an angle, watch for a bid from Daymond too. I believe he's done more licensing deals than any other Shark. Mr. Wonderful will undoubtedly chime in with a royalty deal too. I actually wouldn't be surprised to see offers from all five Sharks. I'm pretty sure they get a deal because the press release photos show Kim and Lance high fiving each other. That usually signals a deal.