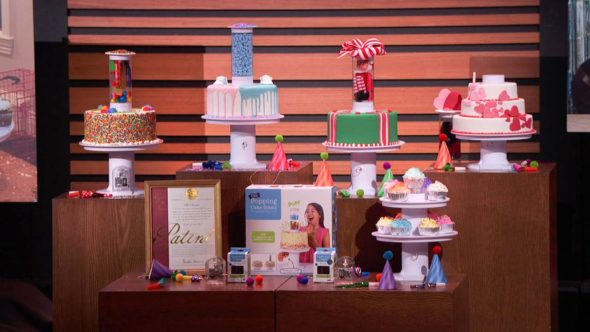 Liz Charm created the Surprise Cake with a zip lock bag, a cell phone and a layer cake. She packed the bag with the phone inside a birthday cake for her daughter's 12th birthday and she was definitely surprised. People at the party liked the concept, but Liz wanted something cleaner.
She asked her son, Jordan, for some help. Jordan is an engineer and he was able to create a spring loaded, Jack in the Box type cake stand. There's a cylinder that pops up when you push a little trigger at the base of the cake stand. The cylinder keeps a small gift free of cake and frosting. There's also a music box attachment that plays "Happy Birthday" and pops the gift up when the song is over.
Each Surprise Cake comes with a special cutting tool that you cut a round hole with to let the cylinder pop up without destroying the cake.  The Surprise Cake comes in several styles. The standard cake stand costs $36.99, The stand with a music box trigger costs $49.98 and the two in one cake stand/cup cake stand cost $45.98. They also sell a cake carrier. The product is available on Amazon and the company website. Jordan and Liz probably need a Sjark's help with marketing, manufacturing and inventory. Will a Shark want a piece of this cake?
My Take on The Surprise Cake
This has the potential to be a big hit. The idea of a present popping out of a cake is cool. My kids would haave loved this when they were little. They'd probably like it now too! If we had one of these, I'd make my wife cut the hole. I'd be too scared to mess up the cake.
I think this would be a good infomercial type product because it really needs a demonstration. If I saw it on a store shelf, I'm not sure if I'd get what it does. That said, if they can show it off to enough people, they'll sell a lot of units. I'm in.
Will Sharks cut the Cake?
I think Lori would be the best Shark for Jordan and Liz. She likes easily demonstrated products and this product needs to be demonstrated. I'm not getting a feel for what she does however from the press photos. Barbara appears to enjoy the pitch and the press photos show smiling Sharks all around. Smiles don't always indicate deals however.