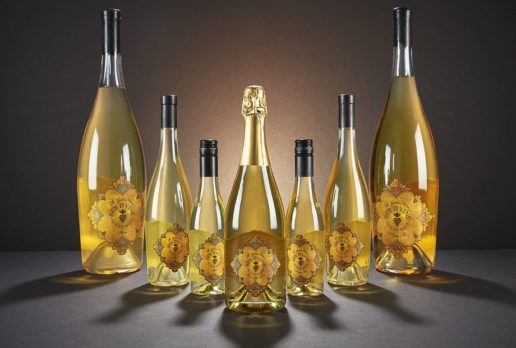 Ayele Solomon wants his honey wine called Bee D Vine to be the next big thing in the wine industry. He got the idea for making the product from his native Ethiopia where honey wine is still consumed regularly. Even though his business is located in the Napa Valley, he doesn't use grapes in his wine, he uses honey. Honey wine, or mead as it's more commonly called, is the oldest alcoholic beverage known to man. Traces of it were found in pottery dating as far back as 7000 BCE. The characteristics of mead are different from regular wine: most of it's fermentable sugar comes from honey.
While some cultures mix spices, hops or other flavors into their honey wine, Bee D Vine has two ingredients: honey and spring water. Ayele keeps his wine from being too sweet (like many meads) by fermenting the sugar out of the honey, leaving a dry wine that, as he says, lets you "experience the taste of exotic floral nectars dancing on your palate." The wine is aged in barrels for a year and a half, then for another one to two years in the bottle.
A 750 ml bottle is $49. He currently only sells on his website. Reviews are mixed. Drink Hacker called Bee D Vine "a muddy mix of old apples, earth, simple florals, and industrial elements." Total Wine and More called it "refreshingly floral and perfumed with distinctive hints of almond and jasmine – rich but with no tannin aftertaste." Ayele is finding that most people like his wine and he even got the opportunity to open a tasting bar in a thriving downtown San Francisco Farmers Market before the Covid – 19 Pandemic hit. He likely wants a Shark's help getting more production capabilities. The question is, do Sharks like mead?
My Take on Bee D Vine
When my son was in college, he and his roommate used to make mead. He made some to bring home one Christmas break and it was nasty. It was overly sweet and very alcoholic. I hated it. He liked it though. Ayele's version promises a much less sweet experience with characteristics more like dry white wine than my son's home brew.
I'd probably give it a try to serve with some fish if they had it at my local liquor store. A new winery always has challenges getting distribution since there are so many wines out there, It will probably take a while for it to get on the shelves in Florida. It would be interesting  to know how it is as a cooking wine. I make a lot of sauces with wine and this might give some of them an interesting and different flavor. I hope he does well.
Do Sharks Drink in a Deal?
Whenever a wine business comes into the Tank, Kevin is a vocal Shark. He'll undoubtedly reference his membership, to the cheers of the other Sharks,  in the Confrérie des Chevaliers du Tastevin, a fraternity of sorts for burgundy enthusiasts. One thing Mr. Wonderful can do is get on the phone with the largest distribution channel for wine in the USA: Costco. They sell more wine than anybody and Mr. Wonderful can put a deal together quickly. If he likes the product, he will make an offer.
As for the other Sharks, Mark has several alcoholic beverage businesses and he knows the ropes. If there is value, he could bid. Lori and Robert tend to shy away from alcohol related businesses, so I think they'll be out. Dan Lubetsky is a wild card, but he might like the sustainability angle of using honey, which requires far fewer resources than acres of grapes. I think we'll see multiple bids if the Sharks like the taste. If they don't Ayele will be out of luck.