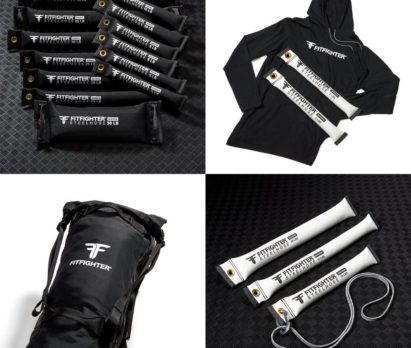 Sarah Apgar originally created her line of Fit Fighter weights to help with her and her department's training. She joined the fire department in Huntington, NY after leaving the army, where she served in the Corps of Engineers as a business development analyst. She missed the camaraderie the army provided and she found it as a first responder.
What FitFighter is is weights like you've never seen before. Firefighters have a physical job, so she wanted to train as if she were fighting a fire. Her weights are actual fire hose material filled with steel shot pellets. The pellets move around inside the hose, mimicking the flow of water through the hose as if fighting a fire. Her training program, which you access after becoming part of the Fit Fighter Family, is a great way for anyone to get in shape. Sarah is living proof it works – she's ripped! The training is so good, the  FDNY Fire Training Academy and San Diego Fire Rescue Academy use her program.
When you buy the weights, which range from $65 to $205 depending on which package you buy, you get access to her Facebook group to get workout videos. She's also distributing her weights and program through Sorinex, a huge gym equipment manufacturer. Sarah likely needs cash for inventory and some mentoring on how to grow her business quickly. Will a Shark want to do some heavy lifting?
My Take on Fit Fighter
My wife and I haven't been to the gym since Covid-19 hit and it shows. Lately, we started power walking around the neighborhood and lifting light dumbbells. Sarah's program looks very vigorous, but my wife and I both have bad knees and we tend to shy away from activities that require a lot of jumping around. The weights look cool and , as I said before, Sarah is clear evidence the program works, but I don't think it's for me personally.
Will Sharks Give this Business a Lift?
Fitness products are a bit of a mixed bag in the Shark Tank. Mark, Lori and Robert have all invested in several fitness related businesses and they've been successful. What it usually comes down to is the value to the Shark and the entrepreneur.
One thing came to mind when I was looking at this business. Robert invested in The Natural Grip back in season six. This product was a zinc oxide tape for your hands allowing you  to get a better grip on weights and exercise bars. Ashley Drake was the entrepreneur and she was a former Army Corps of Engineers Captain. I interviewed Ashley and she said the Army experience helped her with running a business. Perhaps Sarah will have some of that Corps of Engineers mojo working for her. I'm thinking Robert makes a bid for this.