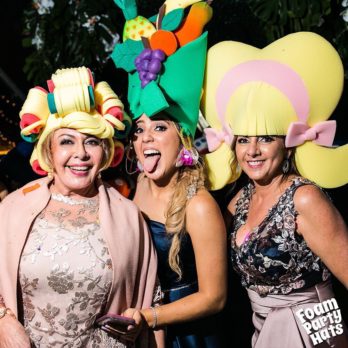 The story of how the Foam Party Hat Company got started is very inspirational. Grace Rojas liked sewing and making fun hats out of foam material for family weddings back in her native Venezuela. When she made some for her daughter's wedding in the early 2000's, she never thought it would become her and her son's life work. The family immigrated to the USA in 2010 to escape the socialist dictatorship that took over the country.
Grace spent her life savings sending her son, Manuel, to college where he majored in chemical engineering. While he was at school, Grace started making Foam Party Hats for friends and family. Before long, she was selling them at fairs in the Houston area. By the time Manuel graduated, she had customers all over the world! Manuel said "I need to get in on this," and the Foam Party Hat Company was born.
The company sells hundreds of styles of foam party hats, ranging from the relatively simple to the very ornate. Every hat is hand made and it's very important to Manuel and Grace that their employees pay attention to detail. They claim they are very lucky in that department. The company also does custom work. If you can imagine it, they will make it for you. They've done custom hats for the likes of Google, FIFA and the New Orleans Mardi Gras. They even made a Covid-19 hat! The company is growing and they have zero debt. They likely need a Shark's help managing that growth.
My Take on The Foam Party Hat Company
This looks like a fun business. My son has an oversized foam cowboy hat he wears for parties or when he wants to look like a big goof. I'm not sure if it's from the Foam Party Hat Company, but it's a fun hat. I totally see how they are selling a lot of hats. Their quality and creativity is top notch. Browse through the hundreds of hats on Amazon and you'll see what I mean.
I am going to book mark this business for next Halloween. There are so many cool ideas and when you can make a costume around a cool hat, it makes it so much easier. I am in.
Will Sharks Wear This Hat?
One thing is certain, the Sharks are going to love the Rojas' story. They'll also love the fact the company was completely self-funded and is completely debt free. What it will come down to is the value. Even so, I can see any one of the Sharks bidding on this.
Lori would have a whale of a time showing these off on QVC. Mr. Wonderful can probably craft one of his royalty deals for an offer. Robert loves quirky online retail businesses like Tipsy Elves and Happy Feet; Foam Party Hats fits that bill. Daniel may identify with the Rojas' story as a fellow Latin American. Mark might just bid because he thinks it's fun and the company is in Houston. I truly won't be surprised to see five offers.